SAN FRAN (GDC 2023) – Razer, the leading global lifestyle brand for gamers, today announced the release of the Interhaptics universal HD haptic SDK and directional haptics at the Game Developers Conference (GDC) 2023 in San Francisco. This free SDK release focuses on enabling a heightened immersive gaming experience, bringing audio and visual effects to life with HD haptic feedback that can now be completely customized through the Interhaptics SDK.
With today's announcement, Interhaptics, the leading haptic technology platform, has expanded its support to include PlayStation®5*, PlayStation®4, Meta Quest 2, X-input controllers, iOS, and Android devices for game engines such as Unity and Unreal Engine. Additionally, the haptic composer software has been upgraded to include in-app testing for DualSense™ wireless controllers for PS5™ and select Razer HyperSense headsets. Interhaptics can now deploy HD haptics on over 5 billion devices across multiple ecosystems. Developers can sign up for the waiting list for the Razer Kraken V3 HyperSense Dev Kit with programmable directional HD haptics at the Interhaptics website.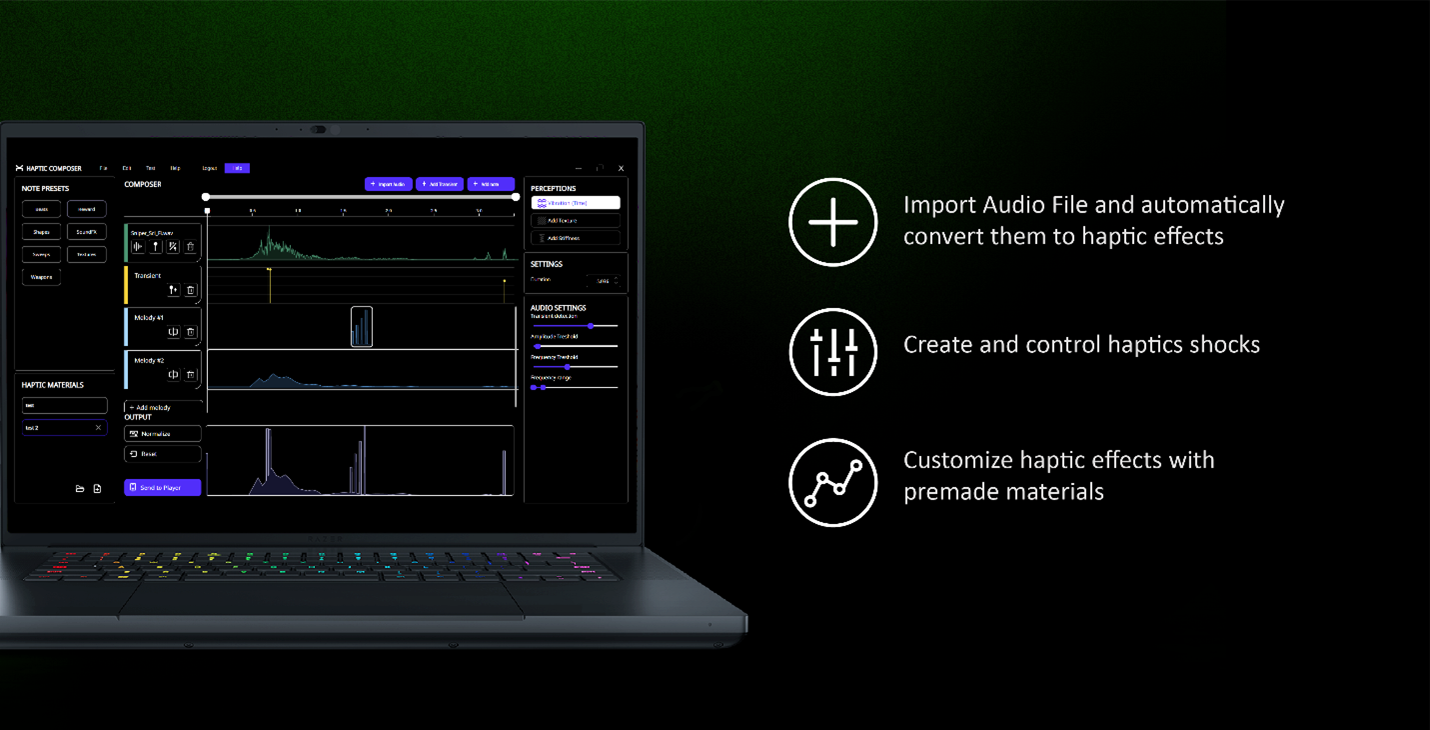 The Interhaptics SDK is now free at interhaptics.com,  and will also be coming to the Unity Asset Store and Unreal Engine marketplace within the next few months.
"At Razer, we are constantly pushing the boundaries of what's possible in gaming, and we know that haptics plays an essential role in creating the most immersive gaming experiences," said Eric Vezzoli, General Manager of Interhaptics. "With the introduction of directional HD haptic feedback for our HyperSense headsets, we're bringing PC gaming and VR to a previously unachievable level of player immersion. Players will now be able to physically feel effects as games creator intended, extending compatibility of our toolsets to a near universal level across game engines and haptic-compatible hardware."
In 2022, Razer acquired 100 percent of the shares of Go Touch VR SAS, also known as Interhaptics, the leading haptics development platform for game studios. Founded in 2017, Interhaptics' mission is to deliver consistent, realistic, and immersive haptics solutions for PC, console, mobile and XR developers. It strives to provide developers with the essential tools guaranteeing quality, faster development, and cross-platform deployment.
GDC 2023 attendees can join the Interhaptics session by Razer at 5pm, on Wednesday, March 22nd at Room 3020, West Hall.
Join the Razer Kraken V3 HyperSense dev kit waiting list here.
For more information on Interhaptics, please visit https://www.interhaptics.com/
For more information on Razer, please visit https://www.razer.com/
For more information on how Razer empowers you to #WinItYourWay, please see here.
MEDIA ASSETS
Please find the press kit here.
* "PlayStation", "PS5", "PS4" and "DualSense" are registered trademarks or trademarks of Sony Interactive Entertainment of Sony Interactive Entertainment Inc.
# # #
ABOUT INTERHAPTICS
Interhaptics revolutionized the Haptics market since its first launch in 2020.
Interhaptics is the only platform providing game creators the tools to design HD haptics for every platform within seconds. Interhaptics currently supports cross-platform haptics on PC, Console, Mobile and XR devices. Interhaptics' mission is to enable the growth of a scalable haptics ecosystem through haptics standardization, cross-technology support, and cross-platform deployment.
ABOUT RAZER
Razer™ is the world's leading lifestyle brand for gamers.
The triple-headed snake trademark of Razer is one of the most recognized logos in the global gaming and esports communities. With a fan base that spans every continent, the company has designed and built the world's largest gamer-focused ecosystem of hardware, software and services.
Razer's award-winning hardware includes high-performance gaming peripherals and Blade gaming laptops.
Razer's software platform, with over 200 million users, includes Razer Synapse (an Internet of Things platform), Razer Chroma RGB (a proprietary RGB lighting technology system supporting thousands of devices and hundreds of games/apps), and Razer Cortex (a game optimizer and launcher).
Razer also offers payment services for gamers, youth, millennials and Gen Z. Razer Gold is one of the world's largest game payment services, and Razer Fintech provides fintech services in emerging markets.
Founded in 2005, Razer is dual headquartered in Irvine (California) and Singapore, with regional headquarters in Hamburg and Shanghai. Razer has 19 offices worldwide and is recognized as the leading brand for gamers in the US, Europe and China.