IRVINE, CA – Razer™, the leading global lifestyle brand for gamers (Hong Kong Stock Code: 1337), today announced a new goal of protecting 1 million trees with the hugely successful Sneki Snek campaign, ten times the original target. In partnership with Conservation International, the initial target of 100,000 trees was achieved in less than 2 months, thanks to the popularity of the Razer Sneki Snek mascot and the overwhelming support from the Razer fanbase. The campaign has been so successful, it is fast approaching saving 150,000 trees, equal to almost 600 acres of forest.
To celebrate this success, Razer is now stretching the goal, aiming to protect a total of 1 million trees, with milestones along the way that will see new Sneki Snek merchandise released as each new target is achieved. To celebrate reaching the initial 100,000 trees target, a new Sneki Snek merchandise will be announced at the upcoming RazerStore Live event on 4th March, along with several other cool product announcements.
Since escaping from Razer's Labs last year, thanks to tremendous demand from the community, Sneki Snek has proved to be a massive fan favorite, inspiring Snek lovers to even tattoo their favorite serpentine on themselves – this level of fan passion, and of course, a hit YouTube video, made Sneki the ideal mascot to lead Razer's global conservation and sustainability campaign #GoGreenWithRazer.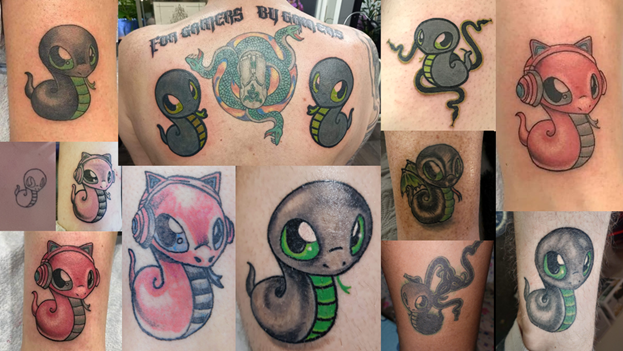 "The support for our #GoGreenWithRazer campaign, led by Sneki Snek, has been truly insane. We thought it would take some time to save 100,000 trees, but we have smashed that target in less than 2 months and are well on the way to the next target of 250,000 trees," says Razer Co-Founder and CEO Min-Liang Tan. "So we decided to be more ambitious in protecting the nature together with our community and Sneki Snek by extending the target to 1 million trees. The more trees we save, the more we protect the nature and wildlife that depends on it for survival."
The new milestones to reach will be 250,000, 500,000, 750,000, and finally 1,000,000 trees. As the community rallies to hit these milestones, Razer will continue to launch new Sneki Snek merch at each milestone, rewarding the community for their efforts and encouraging them to reach the final goal of 1 million trees. Every piece of Sneki Snek merchandise sold will protect 10 trees and contribute to the enormous new goal of 1 million trees saved.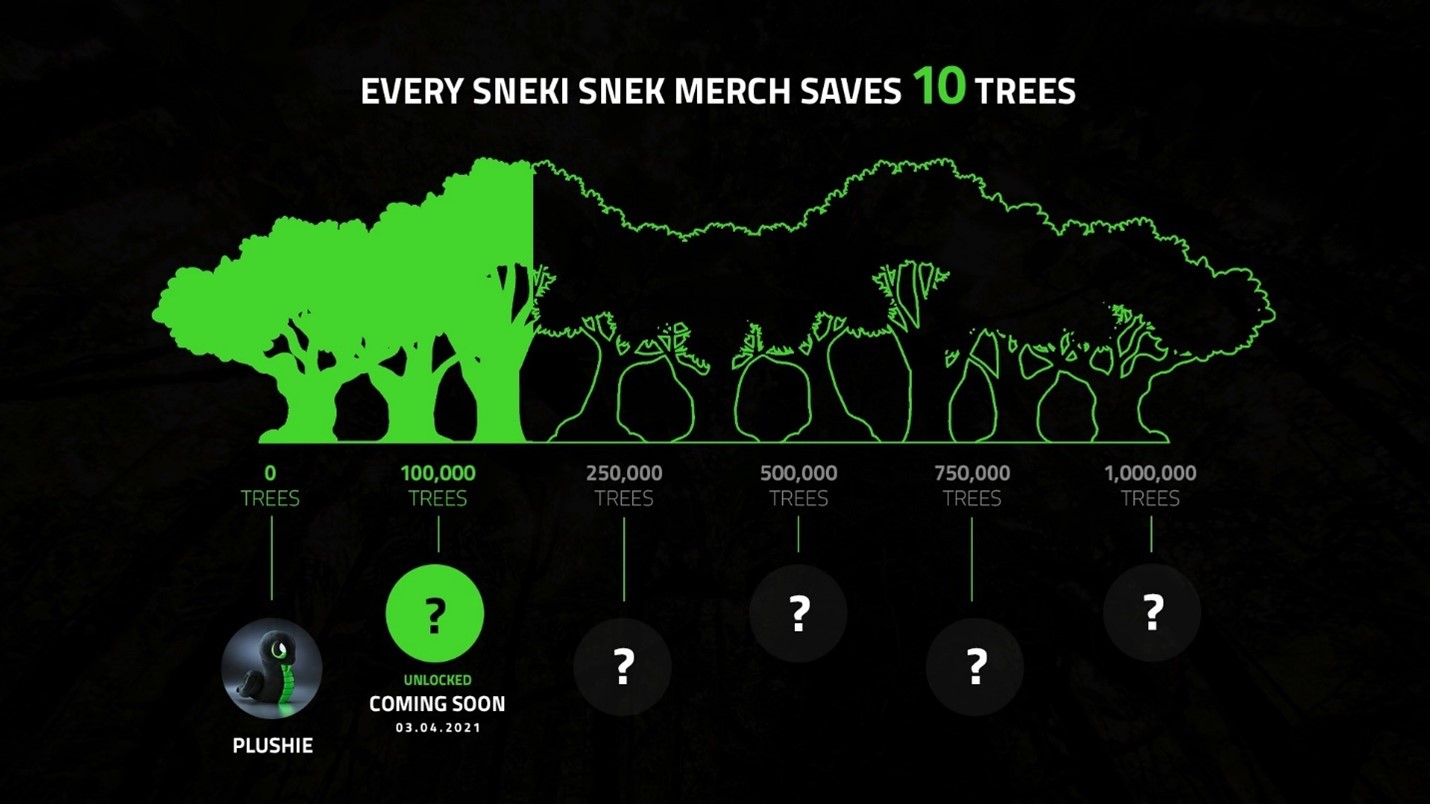 Aided by Razer's support, Conservation International is securing the protection of trees from dozens of forests around the world, such as Costa Rica, Ecuador, Suriname, Brazil, Madagascar and Indonesia among many others. Conservation International works directly with the communities who live in, and depend on, these forests, using innovative tools, technologies and approaches to prioritize the most important forests and the benefits they provide to people and wildlife, to protect them sustainably for the long term; and to monitor their ongoing protection and health.
For more information, please visit https://www.razer.com/campaigns/sneki-snek
ABOUT RAZER
Razer™ is the world's leading lifestyle brand for gamers.
The triple-headed snake trademark of Razer is one of the most recognized logos in the global gaming and esports communities. With a fan base that spans every continent, the company has designed and built the world's largest gamer-focused ecosystem of hardware, software and services.
Razer's award-winning hardware includes high-performance gaming peripherals and Blade gaming laptops.
Razer's software platform, with over 100 million users, includes Razer Synapse (an Internet of Things platform), Razer Chroma RGB (a proprietary RGB lighting technology system), and Razer Cortex (a game optimizer and launcher).
In services, Razer Gold is one of the world's largest virtual credit services for gamers, and Razer Fintech is one of the largest offline-to-online digital payment networks in SE Asia.
Founded in 2005 and dual-headquartered in Irvine (California) and Singapore, Razer has 17 offices worldwide and is recognized as the leading brand for gamers in the USA, Europe and China. Razer is listed on the Hong Kong Stock Exchange (Stock Code: 1337).