SINGAPORE – Inline with the government's call-for-collaboration (CFC) for unified e-payment solutions to aid stallholders, Razer Fintech, Razer's financial technology arm, is expanding its #ForSingaporeansBySingaporeans initiative to support local businesses during the COVID-19 pandemic. Razer Fintech will drive the adoption of e-payments at merchants islandwide, including hawkers, while also sponsoring high quality certified surgical masks for Singaporean adults and Singapore residents who use its mobile wallet app, Razer Pay, to pay for their purchases at local merchants.
On 26th May, 2020, Deputy Prime Minister Heng Swee Keat announced a renewed national push to encourage local businesses to digitize and adopt e-payments. In support of this initiative, Razer Fintech will focus efforts on supporting businesses that were heavily impacted by the Circuit Breaker, which include numerous hawkers, and small and medium merchants. In a bid to drive customers to these local businesses, Razer Fintech will give consumers one free surgical mask per day if they make purchases using Razer Pay. The masks can be redeemed through Razer's growing network of surgical mask vending machines. Razer Fintech will also work with the relevant authorities to get free masks  to these merchants, to aid their safety and wellbeing whilst serving customers, as we enter the early phases of exiting the Circuit Breaker.
"As the country prepares for the Circuit Breaker to phase out, it is imperative that businesses and organisations support each other and ride out the recovery phase together," said Lee Li Meng, Chief Executive Officer at Razer Fintech. "Through this initiative, we aim to drive consumers to support local businesses and to play a part in stimulating the economy  as we continue to take active precautions to minimise the risk of community transmission and keeping the outbreak under control. Contactless and digital payments have seen significant uptake in user adoptions around the world during this period and we would like to do our part in driving this in Singapore."
In support of local businesses, one free surgical mask to be given daily to users who spend $5 or more at local merchants such as hawkers
From 2nd June to 31st December 2020, consumers who conduct at least one transaction of $5 or more using their Razer Pay wallet at local merchants in a single day, can redeem one surgical face mask from Razer's vending machines via in-app redemption coupons. While limited to one free mask a day, there is no limit to the number of days users can avail of this benefit. To get started, users need to download the Razer Pay app, verify their account and top-up their wallet for use. By encouraging purchases at local businesses, consumers can help them get back on their feet as we all emerge stronger through this pandemic as one #SGUnited.
Interested parties who would like to join this effort, including signing up to accept Razer Pay as a payment method, can reach out at [email protected]
After the successful beta, Razer Fintech to increase the number of free surgical masks to 5 for each Singapore resident
Razer Fintech also successfully concluded the beta testing of its surgical mask vending machines. This beta program included app integration and usage, and vending machine deployment at 20 locations islandwide, with thousands of people successfully signing up for the program.
As a result, Razer Fintech will increase the number of free masks given to every adult Singapore resident (aged 16 years and above) to 5 per person. Users will be given one free mask every month starting from June till October 2020 with a 30-day validity period.
The successful beta has allowed Razer Fintech to increase the number of free masks and the company intends to keep increasing the number of free masks as the initial claims go smoothly and if production can be increased.
To complement efforts made by the government, the surgical masks provided by Razer are to be used conjunctively with reusable masks such as the ones being distributed by the authorities. In addition, Razer encourages those with the free surgical masks to gift them to those who are in need of additional protection such as the elderly.
Razer will also continue to expand its network of vending machines at convenient locations islandwide to ensure that the public always has access to masks when out and about. For people who need it, additional masks will be made available for purchase from these machines. Razer also has plans to make other healthcare related items available for purchase from these machines.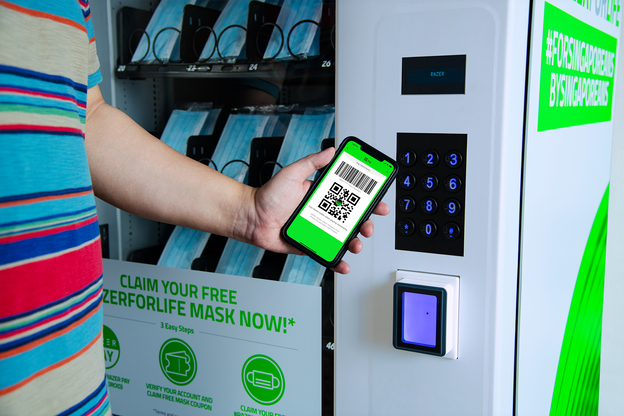 In order to claim their 5 free masks, users can follow these steps:
Download the Razer Pay app from iOS App Store or Google Play Store
E-Verify your account (may take up to one working day) and sign up for the "Razer For Life" program – it is recommended to complete this step prior to heading to the vending machines
Once verified, you will receive one free mask coupon each month for the next 5 months
Head to a vending machine to scan your coupon and collect your free mask
To find your nearest vending machine, please visit https://www.razer.com/sg-en/campaigns/razerforlife/forsgbysg
#ForSingaporeansBySingaporeans Initiative to rally support against COVID-19
Razer is already joining forces with several sponsors and partners in the fight against COVID-19, but other interested parties are invited to join the #ForSingaporeansBySingaporeans initiative to support this cause by partnering with Razer Fintech to:
Sponsor masks for Singaporeans (sponsors will be credited in app); and
Gift masks via digital coupons to partners and customers. As an example, companies or malls could give away free mask coupons to each customer making a purchase.
In addition, Singaporeans and Singapore companies can also opt to support this initiative by partnering with Razer to:
Purchase surgical face masks in bulk;
Sponsor surgical mask vending machines in own locations such as offices and malls; and
Include suitable COVID-19 products for sale in the vending machine network
To participate in the #ForSingaporeansBySingaporeans initiative, please visit https://www.razer.com/campaigns/razerforlife for more information.
MEDIA ASSETS
Please find images of Razer's vending machine here.
ABOUT RAZER
Razer™ is the world's leading lifestyle brand for gamers.
The triple-headed snake trademark of Razer is one of the most recognized logos in the global gaming and esports communities. With a fan base that spans every continent, the company has designed and built the world's largest gamer-focused ecosystem of hardware, software and services.
Razer's award-winning hardware includes high-performance gaming peripherals and Blade gaming laptops.
Razer's software platform, with over 80 million users, includes Razer Synapse (an Internet of Things platform), Razer Chroma (a proprietary RGB lighting technology system), and Razer Cortex (a game optimizer and launcher).
In services, Razer Gold is one of the world's largest virtual credit services for gamers, and Razer Fintech is one of the largest offline-to-online digital payment networks in SE Asia.
Founded in 2005 and dual-headquartered in Irvine and Singapore, Razer has 16 offices worldwide and is recognized as the leading brand for gamers in the USA, Europe and China. Razer is listed on the Hong Kong Stock Exchange (Stock Code: 1337).