IRVINE, Calif. – Razer™, the leading global lifestyle brand for gamers, today introduced Restorify, an e-commerce service rolled out by Razer Fintech, the financial technology arm of Razer. Restorify is a traceable carbon neutral checkout and was launched during COP27, the 27th Conference of the Parties to the United Nations Framework Convention on Climate Change.
Carbon offsetting has the potential to be one of the effective interventions used to lower carbon emissions in the atmosphere. However, carbon credits are typically denominated in metric tons, each of which is not readily divisible. In such size, carbon credits are not readily disposed for the purpose of offsetting everyday purchases. Razer is addressing these challenges and more through Restorify, and is seeking to support OECD's vision to reach $147/tonne by 2030 if the World hopes to reach net-zero emissions by 2050[1].
The key drivers for Restorify, are to promote more transparency and accountability in the carbon market, and to make it easier for businesses to offset their emissions while empowering consumers to be a part of the solution.
[1] Investors with USD 6 Trillion Call for a Global Price on Carbon, 6 July 2021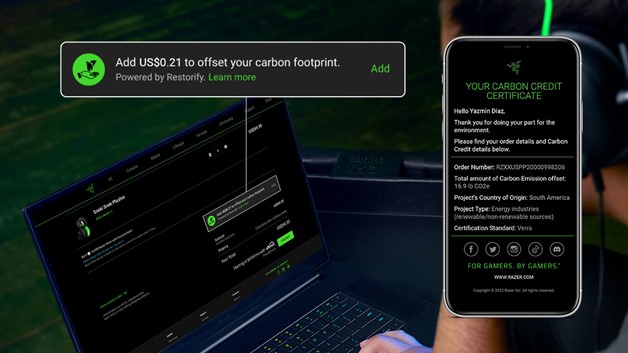 Razer has been working towards becoming net zero by 2030 and has prioritized emissions reduction and recycling in its decarbonization journey. The company has adopted 'Life Cycle Thinking', meaning it follows best practices[2] to reduce emissions across the key stages of its products' lifecycles, from mineral sourcing to manufacturing, transportation to end of life.
"Our life-cycle approach allows us to develop interventions that drive emission reductions, but carbon credits will still have a role to play in the transition to becoming net zero," says Min-Liang Tan, Co-founder and CEO of Razer. "In our own journey to net zero, we have realized that there are growing pains and that not all carbon credits are equal. With Restorify, we hope our novel approach towards carbon credits will foster greater accountability and transparency within carbon offsetting."
[2] Best practices include but not limited to incorporate recycled material in products, efficient and recyclable packaging, energy-efficiency etc.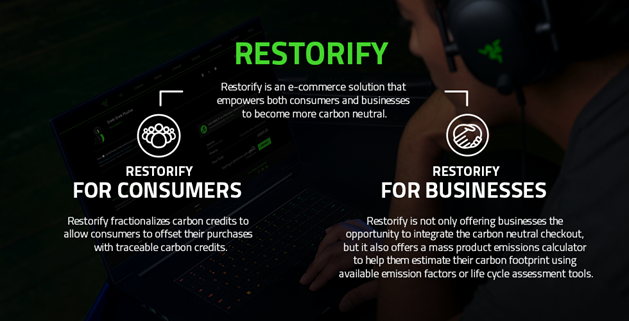 For consumers: Restorify offers a traceable carbon neutral checkout
Restorify fractionalizes carbon credits in its reimbursement process so they can be made available in smaller denominations, empowering consumers to make offsets a part of their daily lives. Restorify aims to rebuild trust around carbon offsets by only allowing traceable offsets with realized decarbonization effects to be used by consumers. In other words, while some competitors promise to offset emissions in the future, with Restorify consumers can rest assured that emissions relating to their purchases have already been offset.
Razer has started to curate a diverse portfolio of carbon credit projects which aspire towards UN's Sustainable Development Goals. To do so, Razer is working closely with partners such as leading energy and urban solutions provider, GoNetZero, as well as ESGpedia[3], which can aggregate the end-to-end traceable data of high-quality carbon credits from origination to retirement, and cloud computing platform, Amazon Web Services (AWS[4]).
The traceable carbon neutral shopping cart offered by Restorify will enable consumers to view the carbon footprint of a product, so they can make informed decisions. Furthermore, as they check out, they will also be empowered to offset the products they buy with carbon credits already retired from verified carbon registries. Upon purchasing the carbon credits, consumers will receive a certificate detailing the total amount of carbon emissions that have been offset by their purchase, what kind of project the retired credits have supported and in which country, as well as the certification standard. These individual fractionalized transactions are digitally recorded onto the ESGpedia registry where consumers can track their carbon offset efforts. This level of transparency is currently otherwise lacking in today's consumer carbon offset market.
[3] ESGpedia by STACS, powers Monetary Authority of Singapore (MAS)'s Greenprint ESG Registry which aims to support a tamper-proof record of sustainability certifications and verified sustainability data across various sectors, providing financial institutions, corporates, and regulatory authorities with a common access point for these data.
[4] Using AWS services such as AWS Fargate, Amazon API Gateway, and Amazon EventBridge, Restorify is able to deliver real-time data to targets quickly, securely, and at scale. AWS will market Restorify to over 100,000 AWS partners from more than 150 countries via AWS Marketplace.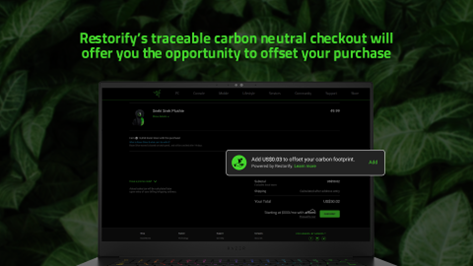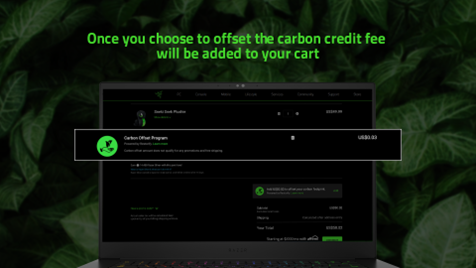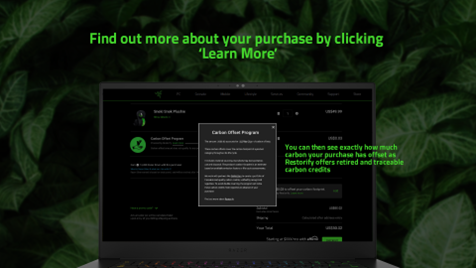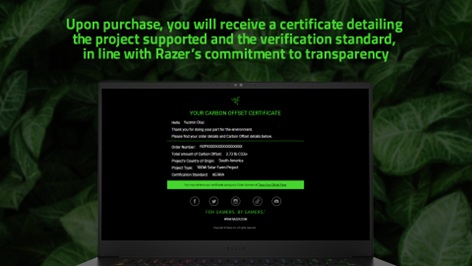 Ongoing projects will also be monitored and reported regularly for verification and to assure the consumer of the integrity of the carbon credits.
For businesses: Razer is sharing its best practices
Razer believes that brands have a responsibility to be transparent with consumers about the carbon footprint of their products so that buyers can exercise responsible consumerism. That's why Restorify applies a mass product emissions calculator that helps businesses estimate their carbon footprint based on a product's emissions across its life cycle[5]. The impetus for this service arose from the realization that some businesses don't have the means to calculate their products' carbon footprint and Razer wanted to provide one.
Restorify will also encourage and provide businesses with a pathway to evaluate the environmental impact of their products through the ECOLOGO Certification, Environmental Product Declaration Certification, or Product Carbon Footprint Verification using Razer's ecolabel partner, global safety science leader, UL Solutions.
Finally, Restorify's carbon neutral checkout is available for businesses to integrate into their existing platform. Razer will be working with partners from its supply chain as well as more than
50,000 merchants under Razer Fintech's network to support their transition to net zero at no additional cost. AWS will also be supporting Razer to make Restorify available to more than 100,000 partners from 150 countries[6].
"With a commitment to power all AWS Regions globally with 100% renewable energy by 2025, AWS is committed to being the world's most sustainable cloud. This charter combined with the differentiating breadth and depth of AWS data services makes AWS an ideal partner for Razer as they embark on this exciting new chapter. This collaboration provides Razer with both development and go-to-market support for Restorify, an innovative carbon tracing solution that will deliver long-term benefits to Razer's business, customers, and the environment," said Conor McNamara, Managing Director, ASEAN, Amazon Web Services.
In conclusion, Razer is seeking to bring more accountability and transparency to the carbon industry through Restorify. While carbon neutral shopping carts exist, the solution offered by Restorify ensures that all carbon credits used are traceable, so consumers can know exactly where their money went. Restorify allows consumers to meaningfully take climate action by enabling them to offset their purchases, and will also help businesses decarbonize so that the planet remains an arena everyone can continue to play in.
For more information, please see here.
[5] Product's life cycle: material sourcing, manufacturing, transportation, use and disposal.
[6] Built on AWS, Restorify benefits from the highly energy-efficient cloud infrastructure and well-architected principles to improve the efficiency of their IT workloads. Amazon also reached 85% renewable energy across its businesses by the end of 2021.
PRESS KIT
Download assets here.
ABOUT RAZER
Razer™ is the world's leading lifestyle brand for gamers.
The triple-headed snake trademark of Razer is one of the most recognized logos in the global gaming and esports communities. With a fan base that spans every continent, the company has designed and built the world's largest gamer-focused ecosystem of hardware, software and services.
Razer's award-winning hardware includes high-performance gaming peripherals and Blade gaming laptops.
Razer's software platform, with over 200 million users, includes Razer Synapse (an Internet of Things platform), Razer Chroma RGB (a proprietary RGB lighting technology system supporting thousands of devices and hundreds of games/apps), and Razer Cortex (a game optimizer and launcher).
Razer also offers payment services for gamers, youth, millennials and Gen Z. Razer Gold is one of the world's largest game payment services, and Razer Fintech provides fintech services in emerging markets.
Founded in 2005, Razer is dual headquartered in Irvine (California) and Singapore, with regional headquarters in Hamburg and Shanghai. Razer has 19 offices worldwide and is recognized as the leading brand for gamers in the US, Europe and China.
ABOUT RAZER FINTECH
Razer Fintech is the financial technology arm of Razer Inc. Established in April 2018, Razer Fintech has grown to become one of the largest O2O (offline to online) digital payment networks in emerging markets and has processed over billions of dollars in total payment value. Razer Fintech recorded a Total Payment Volume (TPV) of US$7 billion for FY 2021, representing an increase of 63.5% year-on-year.
RMS, a leading B2B (business-to-business) solution encompasses:
RMS Online: Card processing gateway supporting global scheme cards and over 110 payment methods, powering online payments for global and regional blue-chip merchants in SEA.
RMS Offline: SEA's largest offline payment network of over 1 million physical acceptance points across SEA. RMS Offline also extends point-of-sale services (such as bill payments and telco reloads), cash-over-counter services including fulfilment of e-commerce purchases, distribution of third-party point-of-sale activation (POSA) cards, and merchant acquiring services for third-party e-wallets.
For more information, please visit our website at merchant.razer.com.
Merchants interested in online payment services, may email us at [email protected].
Merchants interested in offline reloads, may email us at [email protected].