SINGAPORE – Razer™, the leading global lifestyle brand for gamers (Hong Kong Stock Code: 1337), today celebrated the grand opening of its new Southeast Asia Headquarters. The ceremony was officiated by Mr. Heng Swee Keat, Deputy Prime Minister of Singapore, who applauded Razer for shaping and nurturing the gaming community both locally, and around the world. The sleek new office is strategically located in one-north, Singapore's technology and business hub, to facilitate Razer's hypergrowth strategy in the region. "With the new Razer Southeast Asia Headquarters, we're excited to expand our family in Singapore from 600 to 1,000 employees. Our gamer-centric ecosystem has redefined the gaming experience for more than a decade with the introduction of innovative solutions and whole new product categories, and we're not planning on slowing down," says Min-Liang Tan, Razer's Co-Founder and CEO. "The new regional hub represents everything that Razer stands for, from innovation, to design, to sustainability, and will not only be home to Razer's growing staff, but to up-and-coming entrepreneurs, and even gamers looking for a place to train and learn as well."
The Razer Southeast Asia Headquarters is the latest addition to one-north's iconic skyline
Standing tall as one of the most distinctive architectural landmarks in one-north, Razer's new headquarters features an iconic black façade with acid green lines streaking across the building – a tribute to the brand's instantly recognizable aesthetic. The interior was designed to inspire creativity and innovation, while facilitating the free flow of information amongst Razer staff. Razer's offices in the United States, Germany and Singapore are already Great Place to Work®-certified and with the new Southeast Asia Headquarters, Razer is poised to extend its propositions to be a place to do great work.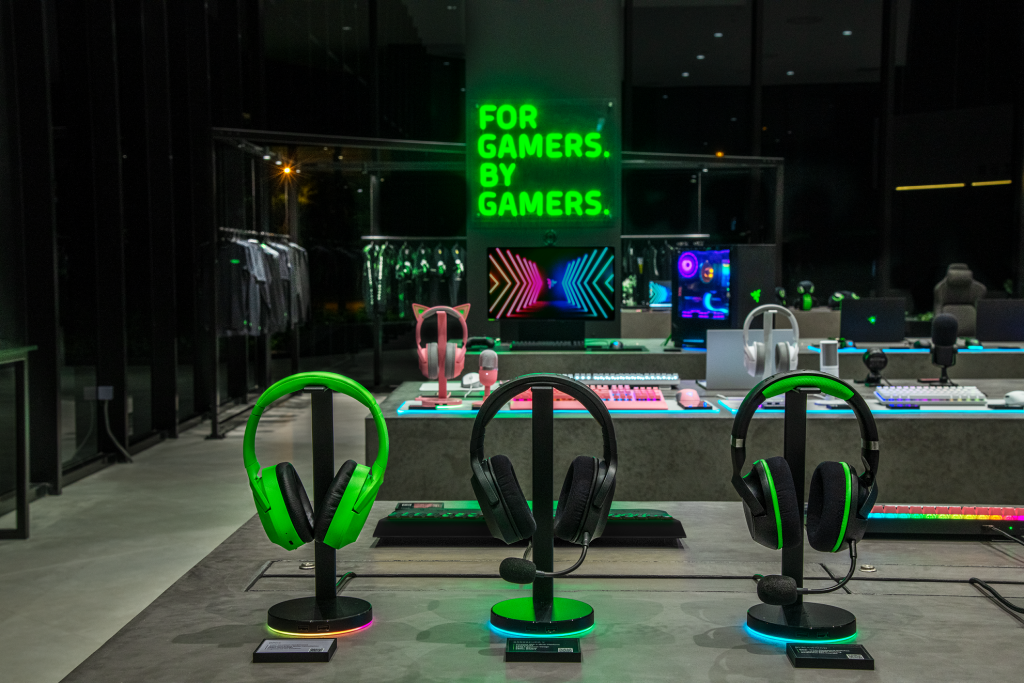 The public is also welcomed to the Razer Southeast Asia Headquarters for a chance to visit the first RazerStore in Singapore and get coffee served at the RazerCafe.
RazerStore Singapore offers fans a chance to sample and explore Razer's full range of award-winning products to truly immerse themselves in the next generation of gaming experiences. Visitors will also be able to get a first-hand look at Razer's latest innovations and creations.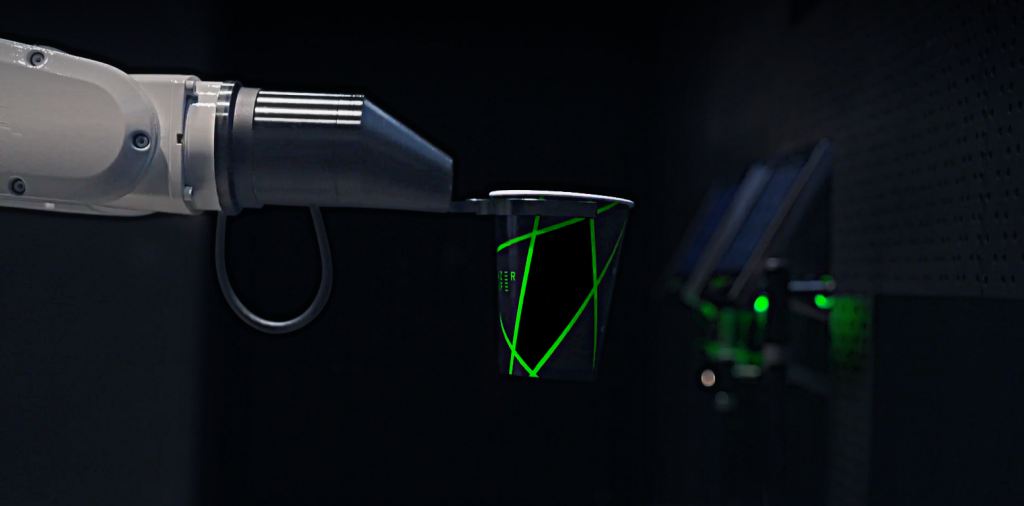 Razer is also introducing a new F&B concept that marries technology, design and refreshments through a state-of-the-art robotic barista arm. At the RazerCafe, guests can order a beverage at the store or pre-order a cup of coffee via the RazerCafe App and collect it in-store. The AI will then make an unrivalled aromatic latte, tailored precisely to each customer's unique tastes. In line with Razer's #GoGreenWithRazer efforts, the RazerCafe has been designed with sustainability elements in mind.
RazerStore Singapore and RazerCafe will be open to visitors from October 28, 2021.
A Sustainable and Smart Place to Work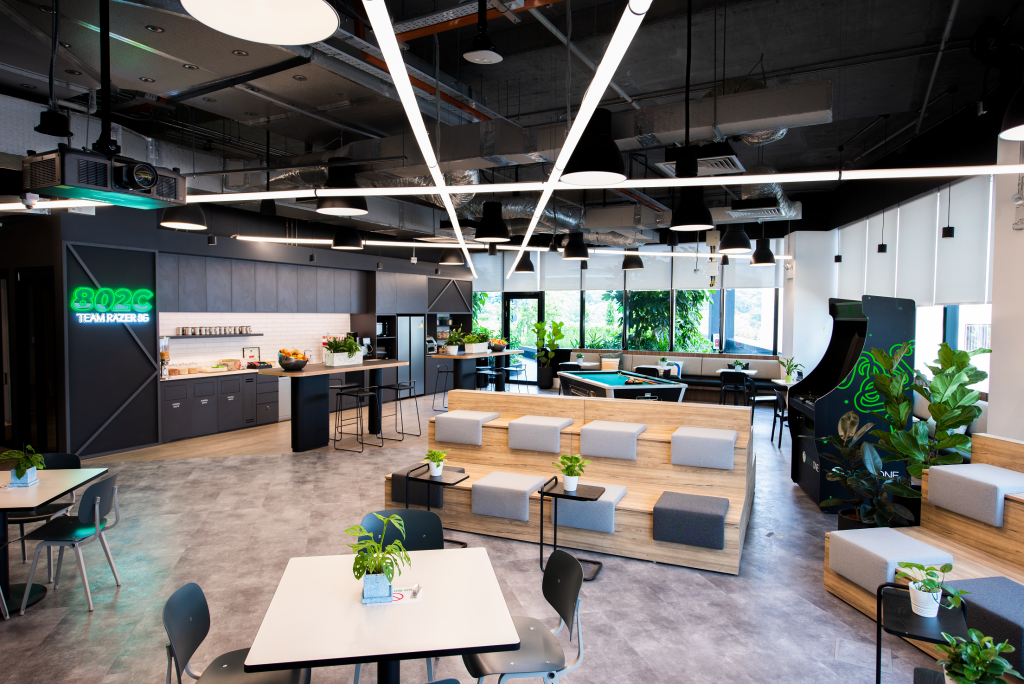 The new Razer Southeast Asia Headquarters embodies the company's sustainability initiative #GoGreenWithRazer, Razer's ten-year plan to preserve nature and protect the environment. Equipped with eco-friendly features, such as solar panels to power parts of the day-to-day operations and sensor-enabled lighting system for energy effectiveness, the building has been conferred the Green Mark GoldPLUS certification by the Building and Construction Authorities in Singapore.
Fulfilling a brand promise that was made earlier this year, Razer's new Southeast Asia Headquarters incorporates sustainable practices such as removing all single-use plastics and utilizing BAMBOOLOO – The Nurturing Co.'s brand of sustainable paper products.
Designed For Gamers. By Gamers.
Razer will continue to forge close partnerships with various stakeholders and esports federations in Southeast Asia to support the growth of esports in the region. Furthermore, Razer has allocated a designated space in its new regional headquarters just for hosting esports workshops, training sessions, and supporting local esports teams and talents.
Razer has also partnered with Asia's leading flexible workspace provider, JustCo to offer businesses a holistic workspace solution and better support the implementation of their hybrid work or workforce decentralization arrangements within Razer's creative hub. Since its founding, Razer has played a paramount role in the development of the technology and gaming ecosystem within Singapore and remains committed to driving the country's Smart Nation ambitions.
To celebrate the opening of Razer's Southeast Asia Headquarters opening with fans across the region, Razer will hold a livestreaming event in November. For more information, please visit Razer's social media channels on Facebook, Twitch, Instagram and TikTok.
ASSETS
Download images here
ABOUT RAZER
Razer™ is the world's leading lifestyle brand for gamers.
The triple-headed snake trademark of Razer is one of the most recognized logos in the global gaming and esports communities. With a fan base that spans every continent, the company has designed and built the world's largest gamer-focused ecosystem of hardware, software and services.
Razer's award-winning hardware includes high-performance gaming peripherals and Blade gaming laptops.
Razer's software platform, with over 150 million users, includes Razer Synapse (an Internet of Things platform), Razer Chroma RGB (a proprietary RGB lighting technology system supporting thousands of devices and hundreds of games/apps), and Razer Cortex (a game optimizer and launcher).
Razer also offers payment services for gamers, youth, millennials and Gen Z. Razer Gold is one of the world's largest game payment services, and Razer Fintech provides fintech services in emerging markets.
Founded in 2005, Razer is headquartered in Irvine (California) with regional headquarters in Hamburg, Shanghai and Singapore. Razer has 18 offices worldwide and is recognized as the leading brand for gamers in the US, Europe and China. Razer is listed on the Hong Kong Stock Exchange (Stock Code: 1337).