SAN FRANCISCO, USA – Razer™, the leading global lifestyle brand for gamers, today announced the Razer Viper Ultimate, its fastest wireless gaming mouse designed for esports. Sporting new Razer HyperSpeed wireless technology and a proprietary intelligent Focus+ Optical Sensor, the Viper Ultimate sets new standards for both accuracy and speed.
The Razer Viper Ultimate joins the Viper lineup of lightweight, competitive gaming mice featuring Razers acclaimed Optical Switches. Now untethered from its cord, the new 74-gram mouse will be sought-after by professionals and demanding PC gamers alike for its faster performance, lightweight design, increased durability and longer battery life than previous Razer wireless mice.
"The Razer Viper Ultimate is the answer to competitive players who want to go wireless", said Alvin Cheung, Senior Vice President of Razer's Peripherals Business Unit. "We pushed the boundaries of wireless, integrated Razer Optical Switches and added an intelligent sensor – all in a highly durable, lightweight design, tested and validated by professional esports athletes."
Faster and more reliable wireless performance
To meet the demands of competitive gaming, Razer has developed the fastest, most stable wireless technology available – Razer HyperSpeed. As tested and confirmed by TUV SUD PSB, a globally recognized certification institute, Razer HyperSpeed is 25% faster than leading wireless gaming mice. With the lowest click latency, it has the fastest transmission speed in any wireless mouse, registering swipes and clicks instantaneously.
The improved Adaptive Frequency Hopping of HyperSpeed assists in maintaining a lag-free wireless connection, constantly scanning frequency channels for interference and seamlessly switching channels in real-time.
A further benefit of Razer HyperSpeed is reduced power consumption, resulting in 25% more battery life for up to 70 hours of uninterrupted gameplay before the Viper Ultimate needs charging1. In other words, charging this mouse once a week is enough to power ten hours of daily gameplay.
Redefining precision with intelligence
The Razer Viper Ultimate is fitted with a brand new, innovative sensor, the Razer Focus+ Optical Sensor. Working closely with Pixart, a leader in smart sensor solutions, Razer has introduced new intelligent functions to the Viper Ultimate sensor, including Smart Tracking, Asymmetric Lift-Off, and Motion-Sync. With a 99.6% resolution accuracy, 20,000 DPI sensitivity and a tracking speed of 650 Inches Per Second (IPS), the new Razer Focus+ offers the highest sensor specifications available to-date.2
Smart Tracking automatically calibrates across different mouse surfaces (e.g. a cloth or hard-surface mouse mat), ensuring lift-off distance and accuracy remain consistent and eliminating the inconvenience of manual calibration required by previous sensors.
1 With RGB lighting turned off.
2 As compared to other leading sensors from Pixart.
Asymmetric Lift-Off enables users to preset different landing and lift-off distances for greater accuracy during gameplay. The landing distance is the point at which the mouse resumes tracking again, ideally as close to the surface as possible to prevent mouse drift.
Motion-Sync ensures information from the sensor to the PC is sent at exact intervals for better sensor responsiveness and improved tracking consistency. With this new intelligent function, the PC will always receive the most current updates of the exact mouse position.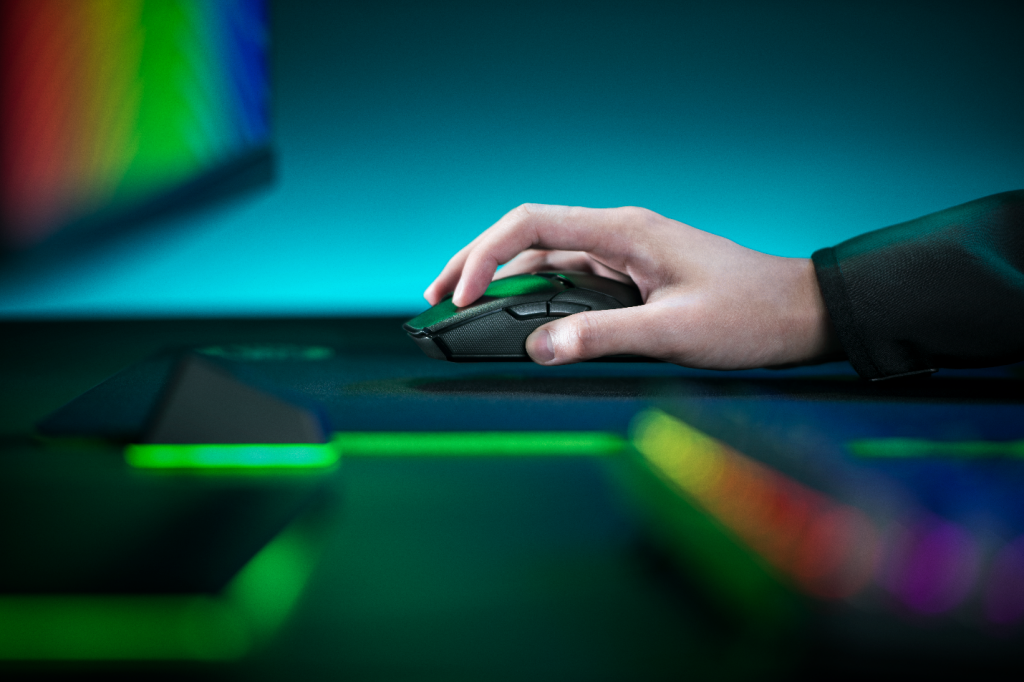 Optical switches deliver durability and reliability
Wireless mice typically operate on a low voltage to increase battery life. This worsens the corrosive effect on their mechanical switches, leading to a shorter lifespan and a higher risk of unintended clicks.
The Razer Optical Switches on the Viper Ultimate wireless mouse require no physical contact to send electrical signals to the PC, eliminating the need for debounce delay and causing zero corrosive effects. Ultra-fast and durable, these switches withstand the rigors of competition while delivering the speed and precision players demand.
A hard-hitting esports featherweight unleashed
At just 74 grams, the Viper Ultimate is a lightweight wireless esports gaming mouse from Razer. The light design is achieved without resorting to an external honeycomb design, resulting in a solid, ambidextrous chassis that does not compromise on strength and durability. It provides a smooth control and is built to meet the rigorous demands of esports competition. To further reduce any residual mouse drag, the Viper Ultimate features smoother high-grade PTFE mouse feet to make each mouse flick faster and more precise.
The Razer Viper Ultimate has already been tested in battle, used in high-stakes tournaments by some of the world's top esports athletes. "The wireless speed on this mouse is really fast, it feels perfectly smooth and no different than playing on wired," said CS:GO legend Epitácio "TACO" de Melo of Team MIBR, who field-tested wireless prototypes of the Razer Viper in tournaments this year. "The extremely accurate sensor is perfect for intense games like CS:GO."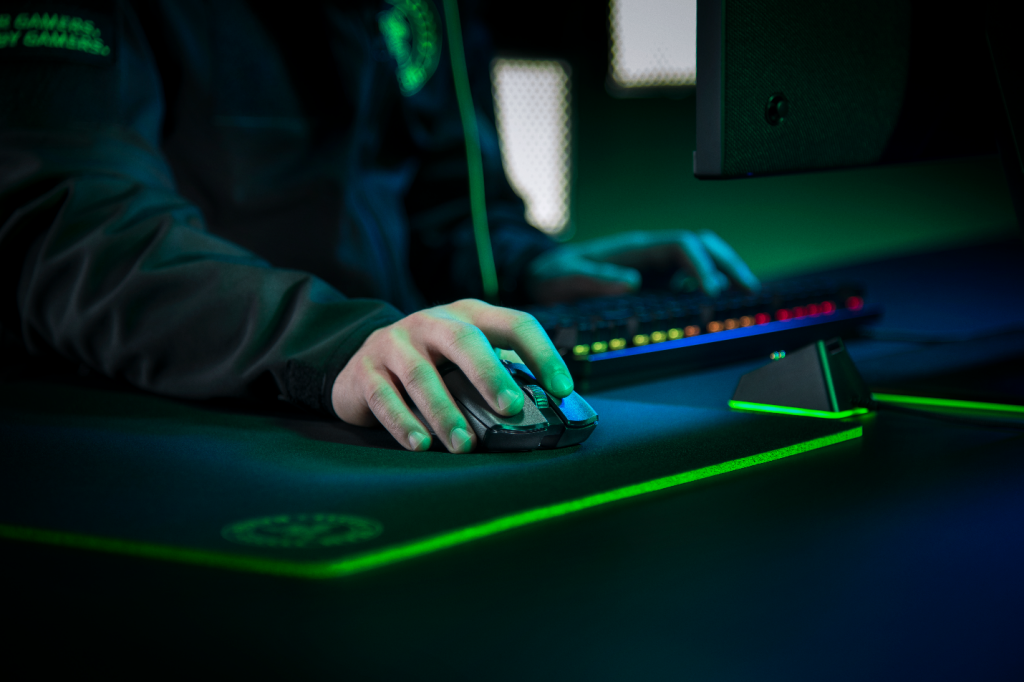 Extreme Customizability
Using Razer Synapse 3, users may rebind eight programmable buttons, assign macros or secondary functions, and save all profile configurations to the Viper Ultimate's On-board Memory. With storage for up to five on-board memory profiles, users have instant access to their personal settings wherever they are.
The Viper Ultimate is also available in a bundle together with the Razer Mouse Dock, powered by Razer Chroma™ RGB with 16.8 million colors and signature lighting effects. The new standardized docking module has been designed to accommodate future top-tier wireless mice from Razer and accommodates a USB-A input to operate the Viper Ultimate in full wired mode with the included Speedflex cable.
To fully discover the Razer Viper, please visit www.razer.com/gaming-mice/razer-viper-ultimate
To learn more about Team Razer esports, please visit www.razer.com/team
ABOUT THE RAZER VIPER ULTIMATE
HyperSpeed wireless technology, 2.4 GHz dongle included
True 20,000 DPI Focus+ Optical Sensor with 99.6% resolution accuracy
Up to 650 inches per second (IPS) / 50 G acceleration
Advanced Lift-off/Landing distance customization
Eight independently programmable buttons
Razer™ Optical Mouse Switches rated for 70M clicks
True Ambidextrous shape with gaming-grade tactile scroll wheel
On-The-Fly Sensitivity Adjustment (Default stages: 400/800/1600/2400/3200)
Hybrid On-board and Cloud Storage (4+1 profiles)
Razer Synapse 3 enabled
Razer Chroma™ RGB lighting with 16.8 million colors and inter-device synchronization
8 m / 6 ft Speedflex cable for charging and wired mode usage
Razer Chroma Charging Dock compatible
Battery life: Approx. 70 hours (without lighting), battery life depends on usage settings
Approximate size: 117 mm / 4.6 in (L) x 71 mm / 2.79 in (W) x 38 mm / 1.49 in (H)
Approximate weight: 74 g / 2.61 oz (Excluding cable)
Compatible with Xbox One for basic input
PRICE & AVAILABILITY
Razer Viper Ultimate & Razer Mouse Dock: $149.99 USD / €169.99 MSRP
Razer Viper Ultimate: $129.99 USD / €139.99 MSRP
Razer Mouse Dock: $49.99 USD / €59.99 MSRP
Razer.com and authorized resellers – October 18, 2019
PRODUCT ASSETS
Please find the Razer Viper Ultimate press kit here
ABOUT RAZER
Razer™ is the world's leading lifestyle brand for gamers.
The triple-headed snake trademark of Razer is one of the most recognized logos in the global gaming and esports communities. With a fan base that spans every continent, the company has designed and built the world's largest gamer-focused ecosystem of hardware, software and services.
Razer's award-winning hardware includes high-performance gaming peripherals and Blade gaming laptops.
Razer's software platform, with over 70 million users, includes Razer Synapse (an Internet of Things platform), Razer Chroma (a proprietary RGB lighting technology system), and Razer Cortex (a game optimizer and launcher).
In services, Razer Gold is one of the world's largest virtual credit services for gamers, and Razer Fintech is one of the largest online-to-offline digital payment networks in SE Asia.
Founded in 2005 and dual-headquartered in San Francisco and Singapore, Razer has 18 offices worldwide and is recognized as the leading brand for gamers in the USA, Europe and China. Razer is listed on the Hong Kong Stock Exchange (Stock Code: 1337).