WHO: Razer, the leading global lifestyle brand for gamers and AMD, manufacturer of high-performance computing, graphics and visualization technologies.
WHAT: The AMD Wraith Prism cooler with RGB LED illumination, bundled with new 3rd Gen AMD Ryzen™ 7 and 9 Desktop Processors, will have full support for Razer Chroma at launch. Taking advantage of Razer's Chroma Connect initiative, the Wraith Prism will be fully compatible with Razer Synapse 3 – offering fully customizable, synchronized, peripheral and system lighting.*
Through Razer's Chroma Connect program, users will be able to synchronize the lighting on the Wraith Prism fan to their Chroma compatible set-up. They can set their choice of up to 16.8 million colors across their devices, or have a wave of colors cascade from the keyboard to the PC case, or enable many other preset RGB lighting effects. In-game reactive lighting will enhance the mood of any gaming sessions with automatic lighting effects.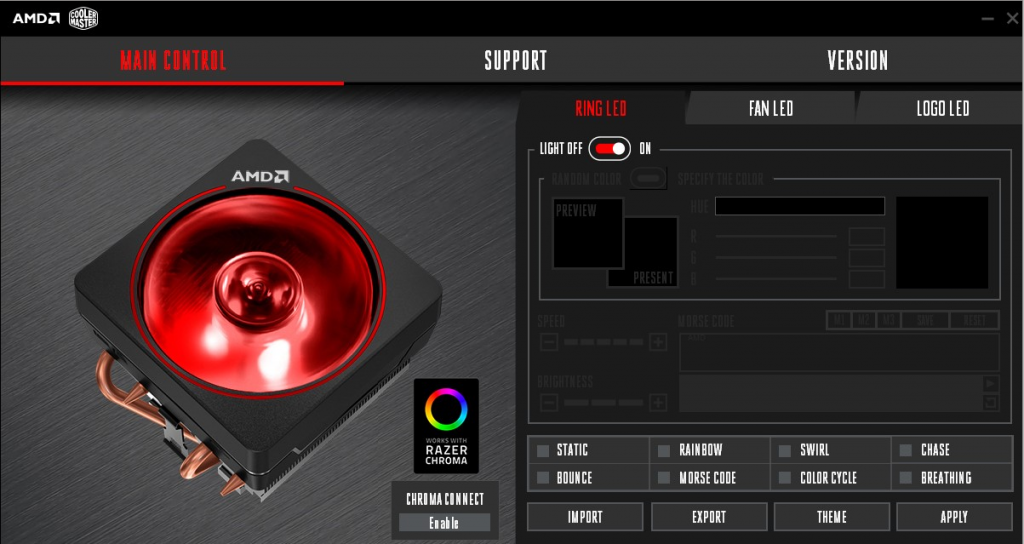 Razer's Chroma Connect program is an ongoing initiative between Razer and multiple hardware manufacturers, bringing synchronized RGB lighting to a wide range of components (memory modules and motherboards) through to peripherals (keyboards and mice) and ambient room lighting. Other brands with Chroma Connect compatibility include MSI, ASRock, Thermaltake and Lian Li. A full list of participating manufacturers can be found here.
The Wraith Prism will be included with all boxed 3rd Gen AMD Ryzen 7 and Ryzen 9 Desktop Processors:
AMD Ryzen 7 3700X
AMD Ryzen 7 3800X
AMD Ryzen 9 3900X
AMD Ryzen 9 3950X (to be released September 2019)
The Wraith prism is also bundled with the last-gen AMD Ryzen 7 2700X
For more information on the Razer Chroma Connect program, please check here.
To download the Wraith Prism lighting software, please check here.
To download Razer Synapse 3, please check here.
* Users will need to download AMD's Wraith Control app (available here) and then click the "Enable Chroma Connect" button within the app.
ABOUT RAZER
Razer™ is the world's leading lifestyle brand for gamers. The triple-headed snake trademark of Razer is one of the most recognized logos in the global gaming and esports communities. With a fan base that spans every continent, the company has designed and built the world's largest gamer-focused ecosystem of hardware, software and services.
Razer's award-winning hardware includes high-performance gaming peripherals, Blade gaming laptops and the acclaimed Razer Phone. Razer's software platform, with over 60 million users, includes Razer Synapse (an Internet of Things platform), Razer Chroma (a proprietary RGB lighting technology system), and Razer Cortex (a game optimizer and launcher). In services, Razer Gold is one of the world's largest virtual credit services for gamers, and Razer Pay is the e-wallet designed for youth and millennials.
Founded in 2005 and dual-headquartered in San Francisco and Singapore, Razer has 18 offices worldwide and is recognized as the leading brand for gamers in the USA, Europe and China. Razer is listed on the Hong Kong Stock Exchange (Stock Code: 1337).