IRVINE, Calif – Razer™, the leading global lifestyle brand for gamers, today announced an all-new collaboration with the iconic, Japanese denim brand, EVISU. Founded in Osaka, Japan, in 1991, EVISU is known for its famous seagull logo and is one of the ultimate denim must haves, embraced by both collectors and hipsters alike.
The collection is one of Razer's many forays into streetwear as a lifestyle brand with the aim of bringing more collaborative collections catering to gamers worldwide. The brands will be launching a limited Razer | EVISU capsule collection, featuring EVISU's iconic apparels and Razer's award-winning peripherals.
"Razer has launched collaborations with fashion and lifestyle partners that are best in class to great success. This time, we're extremely excited to work with the team at EVISU that is known for their commitment to quality and craftsmanship for our next capsule collection," said Addie Tan, Associate Director of Business Development at Razer. "With our knowledge on gaming lifestyle and EVISU's expertise on denim and streetwear fashion, Razer and EVISU have reimagined what it means to be a gamer."
Razer | EVISU Apparels
Designed with the gamer in mind, the Razer | EVISU Apparel collection is a three-part capsule emblazoned with EVISU's iconic motifs with a gaming twist.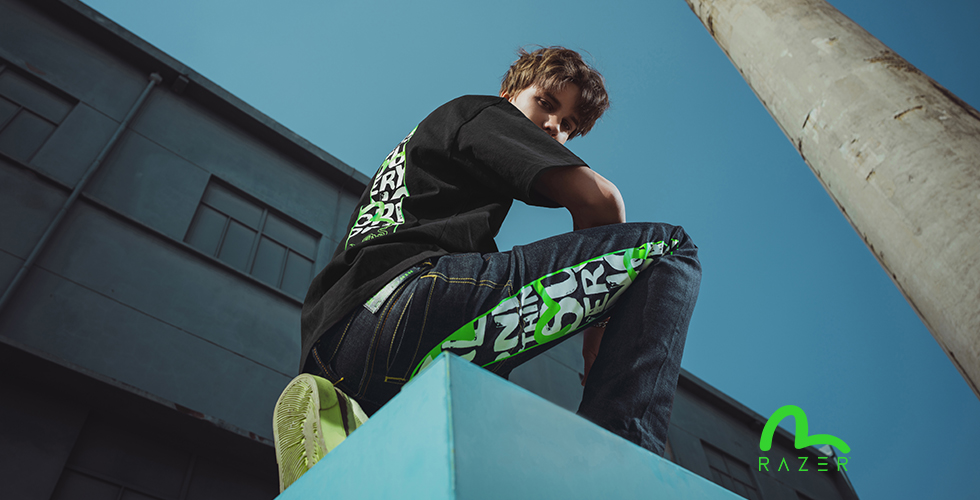 No EVISU collection is complete without the brand's quintessential dark washed jeans. The carrot-fit Razer | EVISU jeans are made from a weighty stretch denim and decorated with EVISU's Daicock insert at the back with a Kamon on one end and Razer's triple-headed snake logo on the other in Razer's acid green.
An essential staple for gamers, the Razer | EVISU black hoodie is designed with a trendy relaxed fit and features EVISU's distinguished Godhead, the Japanese god of prosperity adorned with the Razer BlackShark V2 X gaming headset in the front, as well as EVISU's signature mantra "Before Anyone Did Anything EVISU Did Everything" at the back as a bold statement piece for any wardrobe.
The Razer | EVISU collection will also include a fitted tee in black with EVISU's iconic seagull logo on the front and the collaborative Daicock motif on the back, unique to this collection.
Razer | EVISU Gaming Peripherals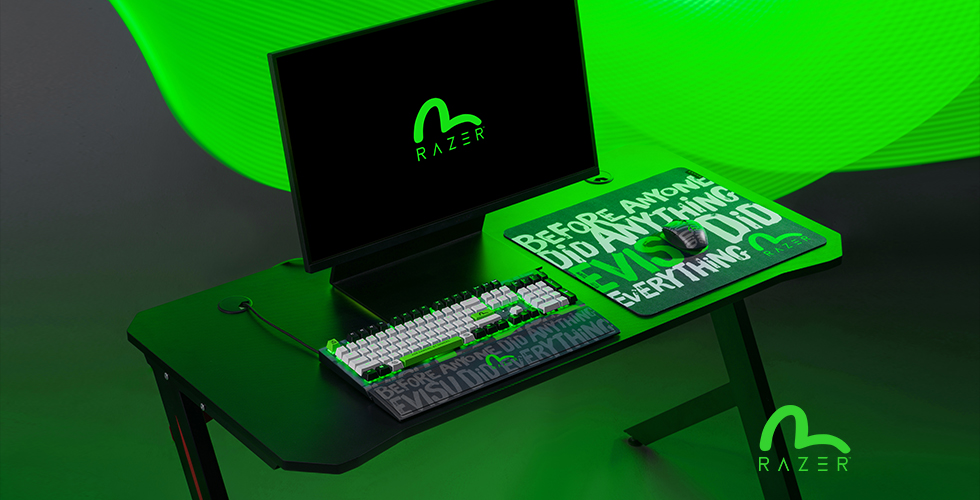 Topping off the collaboration, fans of Razer and EVISU can look forward to a collection of fan favorite gaming peripherals that has been collaboratively designed by both brands, featuring the Razer Orochi V2 ultra-lightweight wireless mouse, Razer Gigantus V2 – Large mouse mat and the Razer BlackWidow V3 mechanical keyboard.
Inspired by EVISU's denim legacy, each peripheral will be embossed with Razer's take on EVISU's signature mantra and will mimic the denim effect for the boldest gaming set-up to solidify the partnership.
In celebration of this collaboration, Razer will also be launching a special edition of the Razer Iskur X. Featuring EVISU's iconic signature mantra, the ergonomic chair was designed for posture perfect gaming.
Channeling the ultimate "it" factor across this series of trailblazing apparels and gaming peripherals, the Razer | EVISU collection is available exclusively at Razer.com, EVISU official page and in stores worldwide. Sales for the collection will start from February 24th, 2023, 6pm PT (February 25th, 3am CET / 10am SGT) while stocks last.
PRICE & AVAILABILITY
Razer | EVISU Daicock Print T-Shirt – $129 USD / 160€ MSRP
Razer | EVISU Godhead Hoodie – $295 USD / 360€ MSRP
Razer | EVISU Daicock Print with Embroidery Carrot-Fit Jeans #2017 – $449 USD / 550€ MSRP
Razer | EVISU Orochi V2 – $99 USD / 120€ MSRP
Razer | EVISU Gigantus V2 Large – $49 USD / 60€ MSRP
Razer | EVISU BlackWidow V3 – $199 USD / 240€ MSRP
Razer.com – 24 February 2023, 6pm PST
For more information, please visit LINK.
For more information on how Razer empowers you to #WinItYourWay, please see here.
PRODUCT ASSETS
Download press kit here
ABOUT RAZER
Razer™ is the world's leading lifestyle brand for gamers.
The triple-headed snake trademark of Razer is one of the most recognized logos in the global gaming and esports communities. With a fan base that spans every continent, the company has designed and built the world's largest gamer-focused ecosystem of hardware, software and services.
Razer's award-winning hardware includes high-performance gaming peripherals and Blade gaming laptops.
Razer's software platform, with over 200 million users, includes Razer Synapse (an Internet of Things platform), Razer Chroma RGB (a proprietary RGB lighting technology system supporting thousands of devices and hundreds of games/apps), and Razer Cortex (a game optimizer and launcher).
Razer also offers payment services for gamers, youth, millennials and Gen Z. Razer Gold is one of the world's largest game payment services, and Razer Fintech provides fintech services in emerging markets.
Founded in 2005, Razer is dual headquartered in Irvine (California) and Singapore, with regional headquarters in Hamburg and Shanghai. Razer has 19 offices worldwide and is recognized as the leading brand for gamers in the US, Europe and China.