SAN FRANCISCO, USA – Razer™, the leading global lifestyle brand for gamers, introduced today the Razer Kraken Ultimate, a competitive gaming headset featuring THX® Spatial Audio technology that delivers pinpoint positional accuracy greater than 7.1 surround sound.
Powered by custom-tuned 50mm drivers that produce a more natural sound curve, the realistic and immersive soundscape captures every auditory detail, allowing users to pick up even the slightest nuance in sound and use it to their advantage. The Kraken Ultimate's active noise canceling microphone allows for crystal-clear team communication completing a winning combination that gives gamers a competitive edge and the definitive gaming audio experience.
Greater Than 7.1 Surround Sound with THX® Spatial Audio
The Razer Kraken Ultimate comes equipped with THX® Spatial Audio technology – an advanced positional audio solution that delivers pinpoint accuracy and greater than 7.1 surround sound. Producing sound in a 360-degree sphere allows for better awareness and heightened immersion during competitive gameplay, allowing you to locate sneaking enemies, avoid whizzing bullets, and detect nearby threats before anyone else.
THX Spatial Audio optimizes the unique sound design and engineering of every game and delivers a natural listening experience by adjusting its virtual speakers to match the audio source's actual distance and location in-game. This can help to reduce brain and ear fatigue, as users are able to decipher where every sound is coming from instinctively, letting them stay focused longer – giving them the upper hand.
Expertly Tuned Drivers for an Immersive Soundscape
Featuring custom-tuned 50mm drivers, the Razer Kraken Ultimate produces powerful, detailed, super-clear sound and punchy base. Tuned to deliver a more natural sound curve, the resulting audio is the richest, most immersive, and lifelike within the Kraken line – perfectly capturing every auditory detail, such as footsteps and gunshots, for a competitive advantage.
Pro-Grade Active Noise Canceling Microphone for Absolute Clarity
Team chat is essential to any multi-player game, and with the new Discord-certified, active noise canceling microphone on the Kraken Ultimate, gamers can be assured of flawless team communication, even at crowded tournaments. Competitive gaming headsets rely on the ability to chat clearly and discern even the subtlest sounds moment-to-moment. By adding active noise canceling technology, the Razer Kraken Ultimate's highly-tuned mic detects and nullifies background noise as you speak, making your voice even clearer, and ensuring crystal-clear communication between teammates.
Lightweight and Durable, Yet Keeping Ears Cool
The Kraken Ultimate features aluminum and steel construction with cooling gel-infused ear cushions for lightweight durability and long-lasting comfort. Being both flexible and tough, its ultra-soft padded headband with bauxite aluminum frame is well-equipped to handle the rigors of transport and extensive gaming sessions. Cooling-gel cushions help reduce heat build-up and also contain hidden eyewear channels for gamers sporting corrective or blue-light glasses.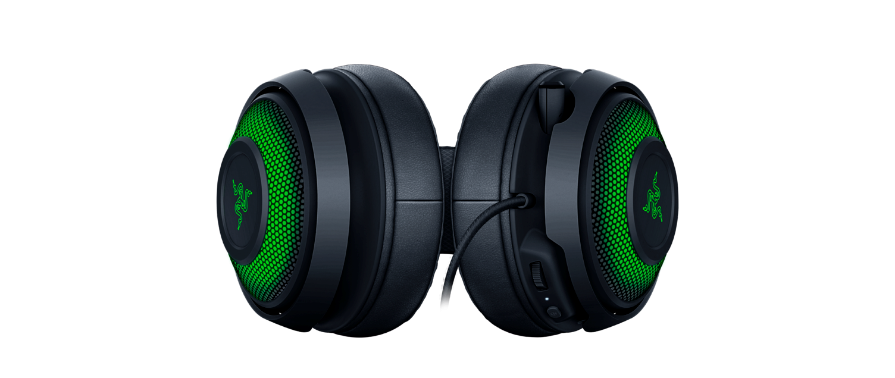 "We have built the Kraken Ultimate to address the needs of gaming audio at its roots," said Alvin Cheung, Senior Vice President of Razer's Peripherals business unit. "Powered by THX Spatial Audio, its custom-tuned drivers deliver superior sound, housed in signature Kraken comfort. Combined with an active noise canceling microphone for crystal-clear team comms, this headset has the winning edge that gamers are looking for."
Razer Chroma™ RGB Underglow Lighting
The Kraken Ultimate also features highly visible backlit earcups powered by Razer Chroma, supporting 16.8 million colors and a suite of lighting effects controlled from within Razer Synapse 3, for endless customization possibilities.
For more information about the Razer Kraken Ultimate, please see here.
Razer Kraken X USB
Razer also introduces today the Kraken X USB. The newest addition to the Kraken X family offers green earcup lighting and 7.1 virtual surround sound via its USB connection – all in a 275g lightweight design, for all-day gaming comfort and immersion.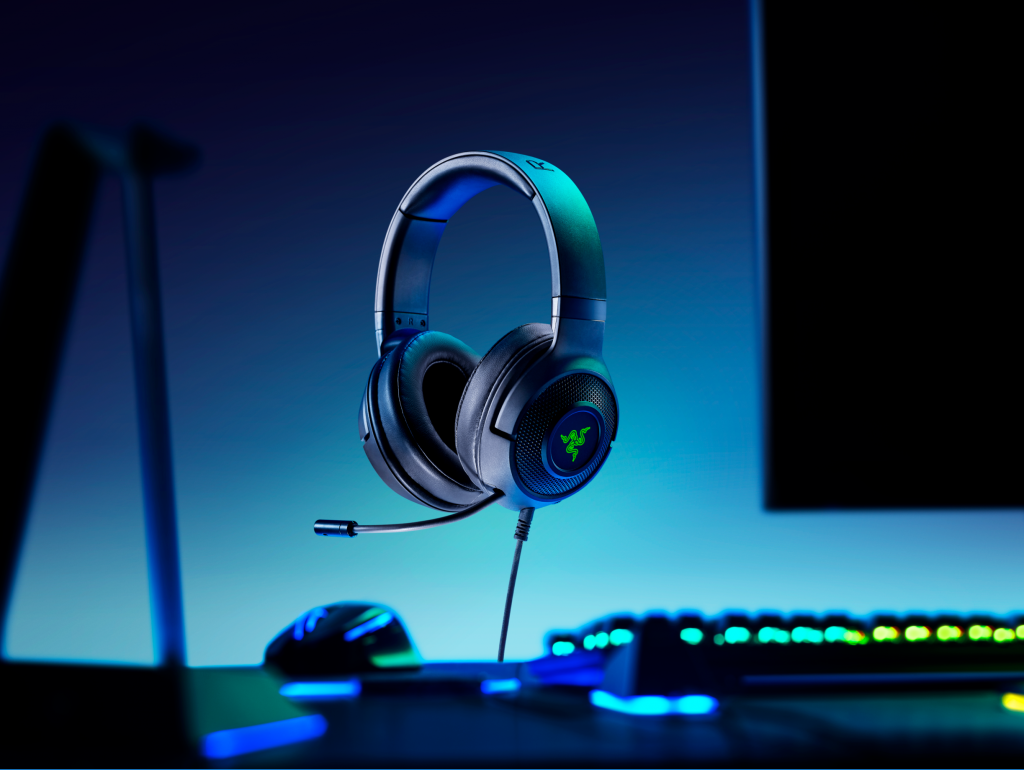 For more information about the Razer Kraken X USB, please see here.
ABOUT THE RAZER KRAKEN ULTIMATE
Headphones
Frequency response: 20 Hz – 20 kHz
Impedance: 32 Ω @ 1 kHz
Sensitivity (@1 kHz): 112 dB
Input power: 30 mW (Max)
Drivers: 50 mm, with Neodymium magnets
Inner ear cup diameter: 65 mm / 2.6 in.
Connection type: USB Digital
Cable length: 2.0 m / 6.56 ft.
Approx. weight: 390 g / 0.86 lbs
Oval ear cushions: Designed for full-ear coverage with cooling gel,
for sound isolation and comfort, now with Razer Chroma RGB underglow lighting
Microphone
Frequency response: 100 Hz – 10 kHz
Signal-to-noise ratio: > 60 dB
Sensitivity (@1 kHz): -38 ± 3 dB
Pick-up pattern: Unidirectional ECM boom
Click-to-Mute Function
On-earcup control
Analog volume control wheel
THX Spatial Audio on/off toggle
Audio Usage
Devices with USB Connector
Audio + microphone usage: Devices with USB Connector
ABOUT THE RAZER KRAKEN X USB
Green earcup lighting for a stylish look
1 surround sound on PC for accurate positional audio
Ultra lightweight at 275g so you never feel weighed down
Bendable cardioid microphone for crystal-clear team communication
Oval leatherette cushions for sound isolation and a comfortable fit
Custom-tuned 40 mm drivers for balanced, clear sound
PRICE & AVAILABILITY
Razer Kraken Ultimate: $129.99 USD / €149.99 MSRP
Razer Kraken X USB: $59.99 USD / €69.99 MSRP
Razer.com and authorized resellers – November 14, 2019
PRODUCT ASSETS
Please find the Razer Kraken Ultimate & Kraken X USB press kit here.
ABOUT RAZER
Razer™ is the world's leading lifestyle brand for gamers.
The triple-headed snake trademark of Razer is one of the most recognized logos in the global gaming and esports communities. With a fan base that spans every continent, the company has designed and built the world's largest gamer-focused ecosystem of hardware, software and services.
Razer's award-winning hardware includes high-performance gaming peripherals and Blade gaming laptops.
Razer's software platform, with over 70 million users, includes Razer Synapse (an Internet of Things platform), Razer Chroma (a proprietary RGB lighting technology system), and Razer Cortex (a game optimizer and launcher).
In services, Razer Gold is one of the world's largest virtual credit services for gamers, and Razer Fintech is one of the largest online-to-offline digital payment networks in SE Asia.
Founded in 2005 and dual-headquartered in San Francisco and Singapore, Razer has 18 offices worldwide and is recognized as the leading brand for gamers in the USA, Europe and China. Razer is listed on the Hong Kong Stock Exchange (Stock Code: 1337).