Cologne, Germany (Gamescom 2022) – Razer™, the leading global lifestyle brand for gamers, today announced the launch of RESPAWN by 5 Gum™ in Germany and the UK. Created in collaboration with Mars Wrigley's 5 Gum™, RESPAWN by 5 Gum, already the #1 gamer gum in the United States*, is now coming to gamers in Europe. Fortified B3, B5, B6, and B12 vitamins, and with zero sugar, RESPAWN by 5 Gum comes in three invigorating flavors – Cool Mint, Tropical Punch, and Pomegranate Watermelon.
Visitors to Gamescom can be the first in the EU to experience RESPAWN by 5 Gum by visiting the Razer stand in hall 8.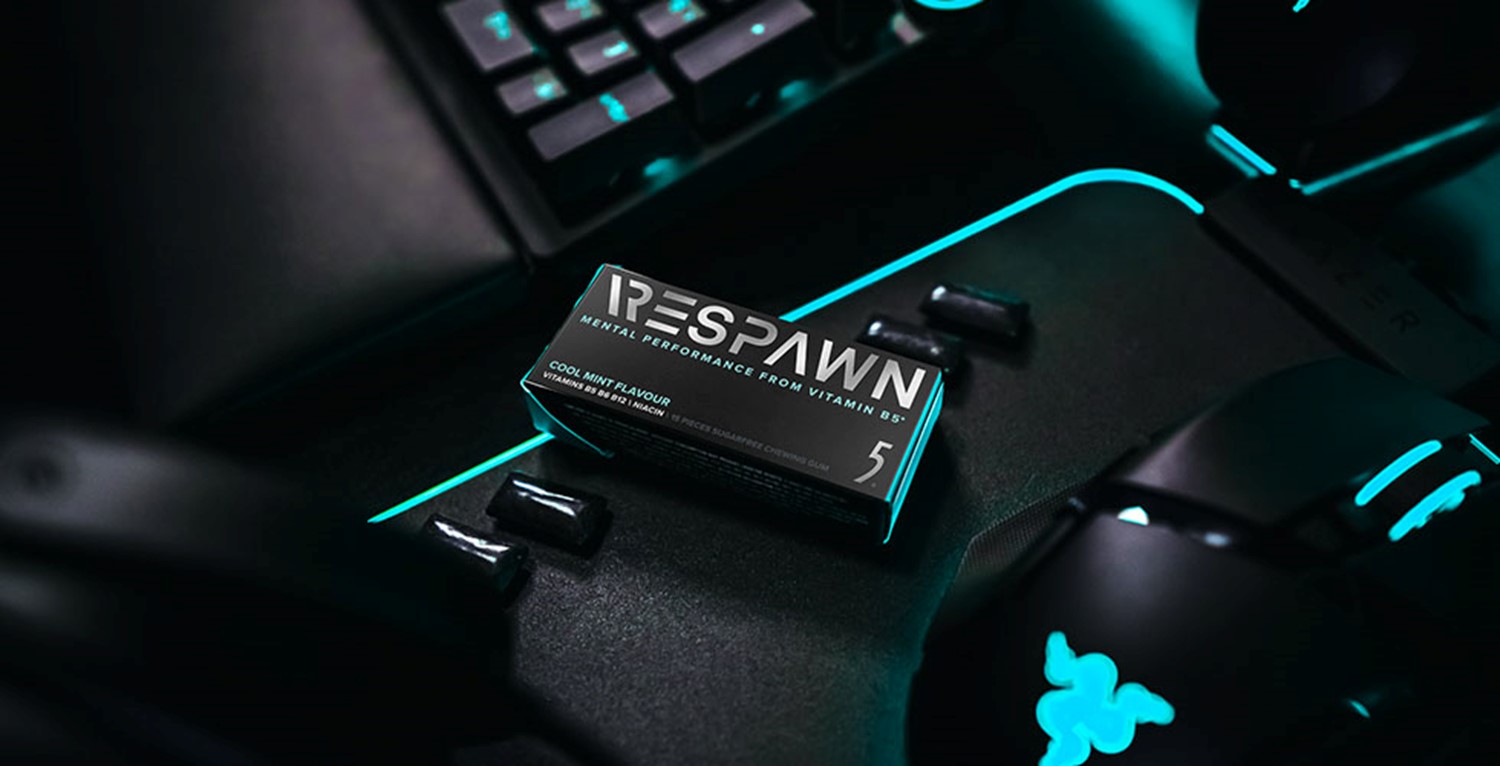 Expertise In All The Right Areas
RESPAWN by 5 Gum was developed by Razer and experts from the global innovation team at Mars Wrigley, the world's top gum maker. This combination of market leaders in the chewing gum and gaming spaces resulted in a superior gum for gamers to keep their minds sharp and satisfy their taste buds. It combines the same great taste and long-lasting flavor of 5 Gum with the special blend of ingredients that made the RESPAWN drink mix so popular with gamers in the United States.
"Chewing can help focus the mind and improve concentration," said Sean Driscoll, Senior Product Evangelist for Respawn Ltd. "With RESPAWN by 5 Gum, we're giving gamers a great tasting gum, which has been developed specifically for them and their gaming habits. It's really exciting to bring this gaming gum to the UK and Germany, and finally satisfy the players who have been clamoring for RESPAWN by 5 Gum since its US launch."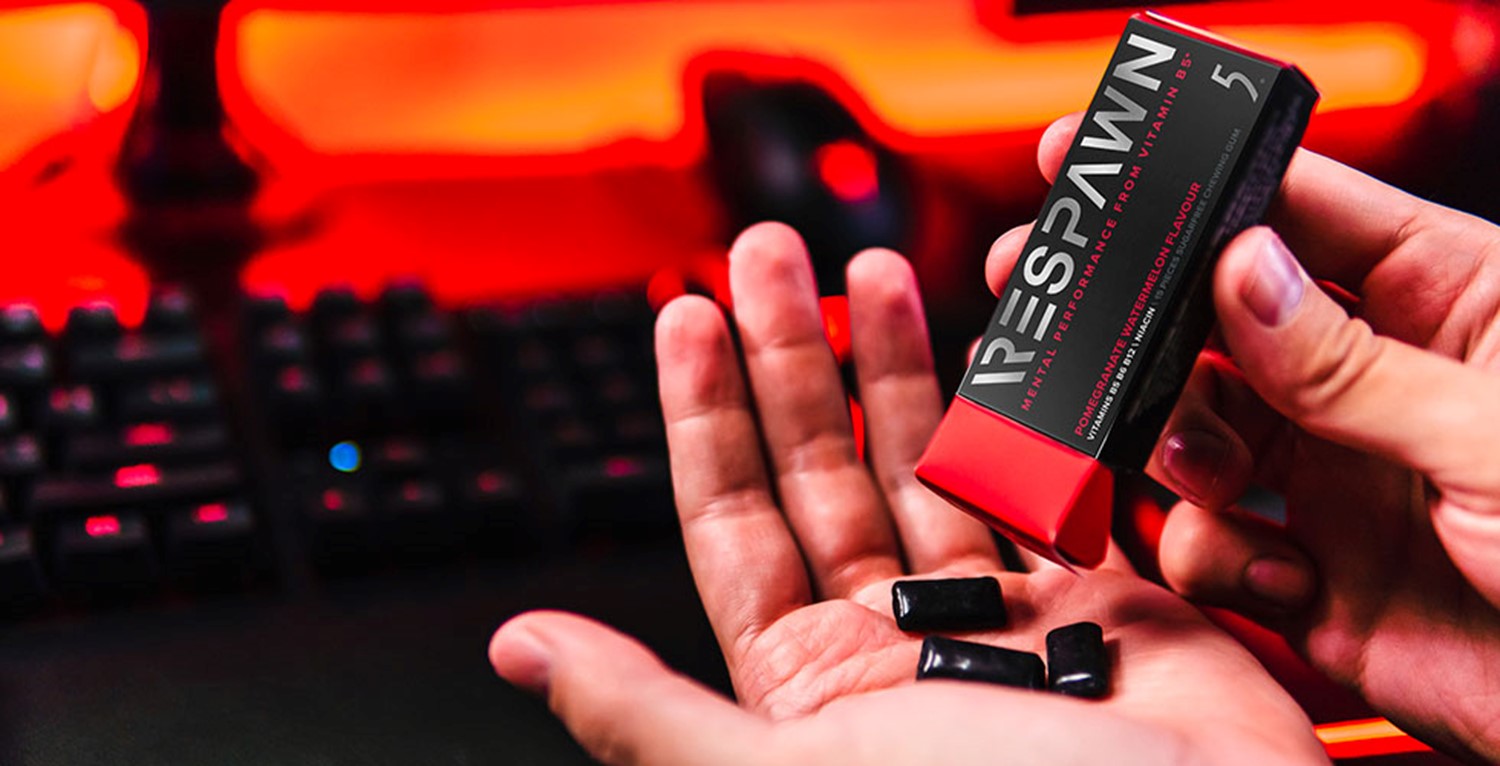 Tested and Approved by Gamers
A subsidiary of Razer, RESPAWN is the gaming nutrition division, responsible for RESPAWN drink mix and collaboration for RESPAWN by 5 Gum. Feedback from players is a core element of RESPAWN's development process, to guarantee products meet the unique needs of gamers. During development of this innovative gum, teams from Mars Wrigley and RESPAWN collected quantitative and qualitative data from 25,000 gamers, testing 15 different formulas, and 50 different functional ingredients, to produce the RESPAWN by 5 Gum that gamers enjoy today.
"Gamers are always seeking an edge," said Peter Strnad, Senior Manager, Global Portfolio for Mars Wrigley. "RESPAWN by 5 Gum has been designed to deliver mental performance from vitamin B5, to support competitive gamers. Gaming is fun and playing at your absolute best matters, that's why all RESPAWN products, made in partnership with Razer, are designed to help gamers play at their finest."
Launching on August 24, 2022, RESPAWN by 5 Gum will be available on Amazon in Germany and the UK.
PRICE & AVAILABILITY
COOL MINT – (6 packs of Cool Mint flavor) – £8.99 / €10.49 MSRP
VARIETY – (2 packs of Pomegranate Watermelon, 2 packs of Tropical Punch flavors & 2 packs of Cool Mint) – £8.99 / €10.49 MSRP
Each pack contains a 15-pellet box
Amazon (Germany and UK) – August 24, 2022
PRODUCT ASSETS
Download product images here.
* #1 Gamer Gum in the U.S. according to Nielsen 2021 data
ABOUT RESPAWN
RESPAWN is the mental performance and nutrition brand dedicated to the gaming lifestyle.
It was born in 2019 with the goal of producing the best mental performance drink to support brain function for gamers and esports athletes alike. Since then, RESPAWN has expanded its lineup which now includes chewing gum and drinks.
RESPAWN is the new choice for gaming enthusiasts and professional streamers who know and appreciate the need to continuously improve gaming performance.
RESPAWN is brought to you by Respawn Pte. Ltd., a standalone entity associated with Razer. Razer™ and FOR GAMERS. BY GAMERS. ™ are trademarks of Razer and are used by Respawn Pte. Ltd. under license.
#RESPAWNandGameOn

ABOUT MARS, INCORPORATED
Mars is a family-owned business with more than a century of history making diverse products and offering services for people and the pets people love. With more than $35 billion in sales, the company is a global business that produces some of the world's best-loved brands: M&M's®, SNICKERS®, TWIX®, MILKY WAY®, DOVE®, PEDIGREE®, ROYAL CANIN®, WHISKAS®, EXTRA®, ORBIT®, 5™, SKITTLES®, UNCLE BEN'S®, and COCOAVIA®. Mars also provides veterinary health services that include BANFIELD® Pet Hospitals, Blue Pearl®, VCA® and Pet Partners™. Headquartered in McLean, VA, Mars operates in more than 80 countries. The Mars Five Principles – Quality, Responsibility, Mutuality, Efficiency and Freedom – inspire its more than 100,000 Associates to create value for all its partners and deliver growth they are proud of every day.
For more information about Mars, please visit www.mars.com. Join us on Facebook, Twitter, LinkedIn, Instagram, and YouTube.

ABOUT RAZER
Razer™ is the world's leading lifestyle brand for gamers.
The triple-headed snake trademark of Razer is one of the most recognized logos in the global gaming and esports communities. With a fan base that spans every continent, the company has designed and built the world's largest gamer-focused ecosystem of hardware, software, and services.
Razer's award-winning hardware includes high-performance gaming peripherals and Blade gaming laptops.
Razer's software platform, with over 175 million users, includes Razer Synapse (an Internet of Things platform), Razer Chroma RGB (a proprietary RGB lighting technology system supporting thousands of devices and hundreds of games/apps), and Razer Cortex (a game optimizer and launcher).
Razer also offers payment services for gamers, youth, millennials, and Gen Z. Razer Gold is one of the world's largest game payment services, and Razer Fintech provides fintech services in emerging markets.
Founded in 2005, Razer is dual headquartered in Irvine (California) and Singapore, with regional headquarters in Hamburg and Shanghai. Razer has 19 offices worldwide and is recognized as the leading brand for gamers in the US, Europe, and China.