Cut the competition down to size and dazzle them all with the new Razer Cobra line, featuring customizable gaming mice amplified by Razer Chroma™ RGB.
IRVINE, Calif – Razer™, the leading global lifestyle brand for gamers, today elevates the gaming mouse domain with the introduction of the innovative Razer Cobra line. In a seamless blend of form and function, this new mouse line incorporates the prime features of Razer's immersive mice range into a symmetrical form factor. Built with customizability, connectivity and cutting-edge technology at the forefront, the Razer Cobra Pro invites gamers to a kaleidoscopic gaming experience brimming with freedom and immersion.
"There was a clear gap in the market for a mouse that offered a well-balanced, immersive gaming experience. Driven by that realization, we created the all-new Cobra line," said Barrie Ooi, Head of Razer's PC Gaming Division. "The Cobra Pro stands unrivaled as the most immersive, feature-rich wireless and symmetrical mouse available today, and we can't wait for our community to try it out for themselves."
Unleashing Unrivaled Control and Customization
From essential commands to complex macros, the Cobra Pro empowers gamers with a new level of control. The mouse is integrated with 10 customizable controls, 5 onboard memory profiles and 11 individually addressable Chroma RGB zones, the most zones in its class, all built into a sleek symmetrical design.
Thoughtfully designed with seven buttons on top, two on the side and one on the bottom, the Cobra Pro redefines accessibility, offering endless possibilities for quick-to-reach commands. Beyond these, the magic unfolds with Razer's Hypershift feature, temporarily enabling a secondary set of functions on top of existing button assignments for a whole new degree of gameplay. The five onboard memory profiles, effortlessly configured via Razer Synapse, can be cycled through at the bottom of the mouse, enabling seamless profile switching tailored to different gaming scenarios.
"Being able to switch between my mice preferences so it's seamlessly optimized across different titles has been a game changer for me," said Mizkif, OTK Co-Founder and Twitch Streamer. "I also just can't get over how good the RGB looks in my gaming setup – it adds so much color and fun to my desk."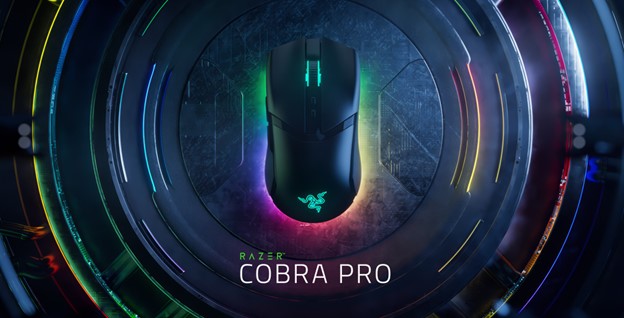 An Illuminating Experience
The Cobra line is a brilliant addition to Razer's expansive suite of Chroma RGB enabled peripherals. The world's largest lighting ecosystem for gaming and lifestyle devices, Chroma RGB features 16.8 million colors, a multitude of lighting effects, and seamless integration with over 250+ games. The newly added Smart Dimming feature in the Cobra line enables gamers to automatically conserve battery during play and reverts to full Chroma display during active use.
Technological Excellence
Harnessing the pinnacle of gaming technologies, the Cobra Pro is a testament to Razer's relentless innovation. Drawing from the superior capabilities of the award-winning Razer Basilisk V3 Pro, such as Focus Pro 30K Optical Sensor, Optical Mouse Switches Gen-3 and HyperSpeed. And for gamers thirsting for more, the Cobra Pro is upgrade-ready for true 4000 Hz polling rates with Razer Mouse Dock Pro (sold separately) or the Razer HyperPolling Wireless Dongle, taking pro-gaming performance to stratospheric levels.
Superior Connectivity
Despite being fully feature-packed, the Cobra Pro weighs just 77g, giving gamers the best of both worlds for the ultimate immersive experience. With up to 100 hours of gameplay on HyperSpeed Wireless (and a staggering 170 hours on Bluetooth) gamers can now battle, build, or strategize anywhere, anytime.
The USB Type C Speedflex Cable allows for quick, seamless charging, keeping the Cobra Pro ready for action. In addition, the Razer Mouse Dock Pro (sold separately), or the Razer Wireless Charging Puck (sold separately) can be utilized to unlock wireless charging capabilities, to enable ultimate convenience.
Introducing the Razer Cobra
For casual gamers who prefer a wired connection, the Razer Cobra stands out as a preferred alternative– lightweight and armed with ultra-durable switches, eight customizable controls, and decked out with a striking gradient Chroma underglow. This mouse exemplifies big-game performance in a sleek, wired form factor.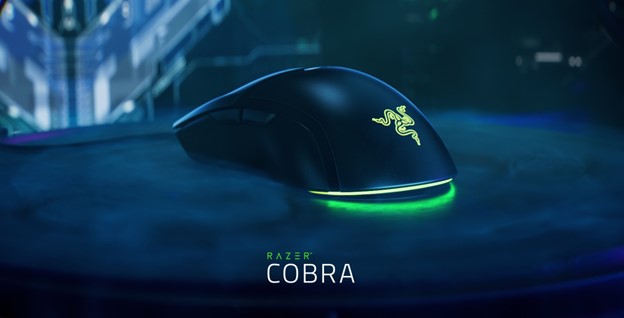 Integrating exceptional precision, unrivaled customization, and radiant aesthetics, the Razer Cobra line is the new zenith of gaming mice, propelling gamers into a future where their play style and personal flair merge seamlessly.
For more information on the Razer Cobra line, please visit Razer.com.
PRICE & AVAILABILITY
Razer Cobra Pro
$129.99 USD / €149.99 MSRP
Razer.com, RazerStores & Authorized Resellers – June 29, 2023
For more information on the Razer Cobra Pro, please visit Razer.com.
Razer Cobra
$39.99 USD / €49.99 MSRP
Razer.com, RazerStores & Authorized Resellers – June 29, 2023
For more information on the Razer Cobra, please visit Razer.com.
PRODUCT ASSETS
Download product assets here.
ABOUT RAZER
Razer™ is the world's leading lifestyle brand For Gamers. By Gamers.
The triple-headed snake trademark of Razer is one of the most recognized logos in the global gaming and esports communities. With a fan base that spans every continent, the company has designed and built the world's largest gamer-focused ecosystem of hardware, software and services.
Razer's award-winning hardware includes high-performance gaming peripherals and Blade gaming laptops.
With over 200 million users, Razer's software platform includes Razer Synapse (an Internet of Things platform), Razer Chroma RGB (a proprietary RGB lighting technology system supporting thousands of devices and hundreds of games/apps), and Razer Cortex (a game optimizer and launcher).
Razer also offers payment services for gamers, youth, millennials and Gen Z. Razer Gold is one of the world's largest game payment services, and Razer Fintech provides fintech services in emerging markets.
Founded in 2005, Razer is dual headquartered in Irvine, California and Singapore, with regional headquarters in Hamburg and Shanghai and 19 offices worldwide.
PRESS CONTACTS
Americas
Paige Sander
[email protected]
EMEA
Maren Epping
[email protected]
China
Evita Zhang
[email protected]
Asia Pacific
Mark Juan
[email protected]
Global
Clinton Jeff
[email protected]
Razer — For Gamers. By Gamers.™