Exclusive in-game items are included with each piece of gear in the collection.
IRVINE, Calif. – Razer™, the leading global lifestyle brand for gamers, in partnership with KRAFTON, Inc., a collective of independent game development studios and the publisher of popular PUBG: BATTLEGROUNDS, announced a highly anticipated collection of PUBG: BATTLEGROUNDS-themed gaming gear.
"Razer is thrilled to partner with KRAFTON on this exciting collection," said Addie Tan, Associate Director of Business Development at Razer. "When you combine our expertise in gaming peripherals with their innovative approach to immersive gaming, you get a cool new collection that resonates with gamers worldwide and captivates gamers and enthusiasts alike."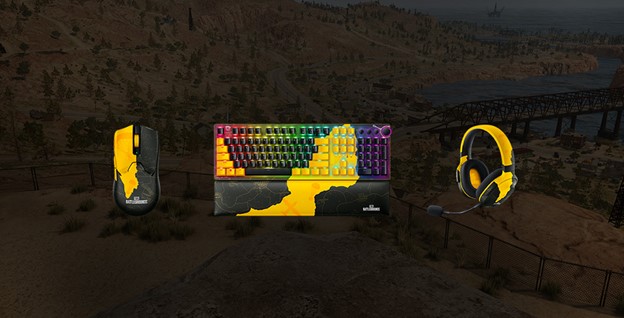 Designed to elevate the PUBG: BATTLEGROUNDS gaming experience, each meticulously crafted piece of gear in this collaboration showcases the fusion of KRAFTON's creativity and Razer's unparalleled quality. The new collection is packed with Razer's fan favorites and will include the Razer Viper V2 Pro wireless esports mouse, the Razer Huntsman V2 optical gaming keyboard and the Razer Barracuda X multi-platform wireless headset. Each Razer peripheral has been given a unique PUBG: BATTLEGROUNDS makeover, decked out in the game's signature colors and iconic elements. The collection includes:
Razer Viper V2 Pro – PUBG: BATTLEGROUNDS Edition: Rise to the top of the food chain with the fearsome speed and precision of the Razer Viper V2 Pro that will ensure they see you for who you truly are – a top predator of human prey. The mouse comes with an exclusive in-game Razer Hat that will turn heads on the battlegrounds.
Razer Huntsman V2 – PUBG: BATTLEGROUNDS Edition: Armed with Razer™ Optical Switches for lightning-fast actuation, the Razer Huntsman V2 will turn the tide in any fight. The keyboard includes an exclusive in-game Razer Jacket that gets players outfitted with striking style as they steal the scene in acid green.
Razer Barracuda X – PUBG: BATTLEGROUNDS Edition: Surviving the Blue Zone has never been easier with a versatile, lightweight wireless Razer Barracuda X headset that keeps you ahead of the game. The headset includes the exclusive in-game Razer Pants and Shoes that ensure players step up their game and stand out on the battleground.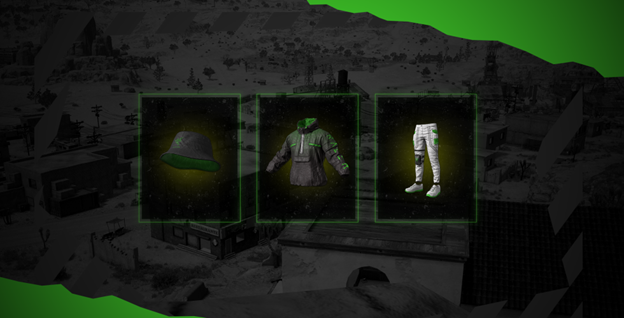 As a bonus, every product in the collection comes bundled with exclusive in-game content tailored for PUBG: BATTLEGROUNDS enthusiasts. Through a redemption code available in the box, gamers can redeem exclusive in-game items for PUBG: BATTLEGROUNDS. These in-game items will allow gamers to deck out in a full Razer-themed wardrobe that includes a hat, jacket, pants, and shoes.
The PUBG: BATTLEGROUNDS-themed peripherals collection represents both brand's commitment to provide gamers with high-quality and visually captivating products that enhance gameplay and bring a touch of adventure to their set-ups.
For more information on the PUBG: BATTLEGROUNDS, please visit the official website.
For more information on the Razer x PUBG: BATTLEGROUNDS collection, please visit Razer.com.
PRICE & AVAILABILITY
Razer Viper V2 Pro – PUBG: BATTLEGROUNDS Edition: $169.99 USD / €219.99 MSRP
Razer Huntsman V2 – PUBG: BATTLEGROUNDS Edition: $229.99 USD / €289.99 MSRP
Razer Barracuda X – PUBG: BATTLEGROUNDS Edition: $129.99 USD/ €169.99 MSRP
Available at Razer.com, RazerStores, PUBG: BATTLEGROUNDS store, and selected retailers.
PRODUCT ASSETS
Download product images here
Find the product video here
ABOUT RAZER
Razer™ is the world's leading lifestyle brand made For Gamers. By Gamers.
The triple-headed snake trademark of Razer is one of the most recognized logos in the global gaming and esports communities. With a fan base that spans every continent, Razer has designed and built the world's largest gamer-focused ecosystem of hardware, software and services.
Razer's award-winning hardware includes high-performance gaming peripherals and Blade gaming laptops.
With over 200 million users, Razer's software platform includes Razer Synapse (an Internet of Things platform), Razer Chroma RGB (a proprietary RGB lighting technology system supporting thousands of devices and hundreds of games/apps), and Razer Cortex (a game optimizer and launcher).
Razer also offers payment services for gamers, youth, millennials and Gen Z. Razer Gold is one of the world's largest game payment services, and Razer Fintech provides fintech services in emerging markets.
Founded in 2005, Razer is dual headquartered in Irvine, California and Singapore, with regional headquarters in Hamburg and Shanghai and 19 offices worldwide.
ABOUT KRAFTON, INC.
Headquartered in South Korea, KRAFTON, Inc. is dedicated to discovering and publishing captivating games that offer fun and unique experiences. Established in 2007, KRAFTON is home to globally renowned developers that include PUBG STUDIOS, Striking Distance Studios, Unknown Worlds, VECTOR NORTH, Neon Giant, KRAFTON Montréal Studio, Bluehole Studio, RisingWings, 5minlab, Dreamotion, and ReLU Games. Each studio strives to continuously take on new challenges and leverage innovative technologies. Their goal is to win over more fans by broadening KRAFTON's platforms and services.
KRAFTON is responsible for premier entertainment properties, including PUBG: BATTLEGROUNDS, PUBG MOBILE, The Callisto Protocol, NEW STATE MOBILE, Moonbreaker, TERA and ELYON. With a passionate and driven team across the globe, KRAFTON is a tech-forward company that possesses world-class capabilities and is set on expanding its business horizons to encompass multimedia entertainment and deep learning. For more information, visit www.krafton.com.
PRESS CONTACTS
Americas
Will Powers
[email protected]
EMEA
Maren Epping
[email protected]
China
Evita Zhang
[email protected]
Asia Pacific
Mark Juan
[email protected]
Global
Vanessa Li
[email protected]
Razer — For Gamers. By Gamers.™