Team Razer celebrates Lee "Faker" Sang-hyeok for his 4th World Championship and Weibo Gaming for their tremendous effort at Worlds 2023. 
Seoul, South Korea – Razer™, the leading global lifestyle brand for gamers, announces a historic showdown at the 2023 Season World Championship (Worlds 2023), as Faker from SK Telecom T1 and Weibo Gaming battled it out for the coveted championship title, with SK Telecom T1 emerging as the victor.  
Team Razer's exceptional performance at Worlds 2023 is a testament to the organization's dedication to pushing the boundaries of esports. With both teams showcasing unmatched skill, strategic prowess, and a deep understanding of the game. Razer has proven once again that it stands at the forefront of the esports revolution and reaffirms its commitment to excellence, innovation, and the relentless pursuit of victory. 
"We are thrilled to witness both Faker and Weibo Gaming demonstrate their skills at Worlds," said Khang Thai, Senior Manager for Global Esports at Razer. "it's an amazing achievement and reflects Razer's commitment to empowering esports athletes with cutting-edge technology, fostering a culture of excellence, and setting new standards for competitive gaming."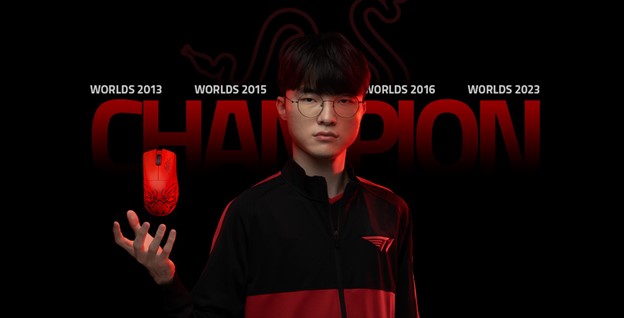 Faker – Truly an Unkillable Demon King  
Etching his name in the annals of esports history by clinching this win, Faker is the only player to capture four League of Legends World Championship titles. Faker's unparalleled achievement cements his status as the greatest player of the game.
"This has been the most challenging year of my career," said Lee "Faker" Sang-hyeok. "Our opponents are getting better and better and, after disappointments at MSI, my injury, and Summer Split, I wasn't sure that we would be standing here today on top of the world. I'm proud of my team. They worked really hard for this."
Team Razer has been supporting Faker since 2021. In addition, he had long championed Razer's most popular esports mouse line, the Razer DeathAdder as his weapon of choice, Faker has dominated the competition, being the only player to achieve multiple feats including over 500 wins and 2,600 kills across all League of Legends Champions Korea competitions and over 100 wins across international competitions.
As part of the celebrations, Razer held multiple watch parties across RazerStores in Asia – this included the RazerStore Taiwan, RazerStore Hong Kong, RazerStore Shanghai and more. Fans of both teams were able cheer on their favorite teams together with the community, win exciting giveaways and more.
As esports continue to captivate the interest of millions, Razer reaffirms its unwavering commitment to championing esports athletes, fostering a vibrant community among fans, and contributing to the thriving esports landscape.
For more information, please visit LINK.
ASSETS
Download images here
ABOUT RAZER
Razer™ is the world's leading lifestyle brand made For Gamers. By Gamers.
The triple-headed snake trademark of Razer is one of the most recognized logos in the global gaming and esports communities. With a fan base that spans every continent, Razer has designed and built the world's largest gamer-focused ecosystem of hardware, software and services.
Razer's award-winning hardware includes high-performance gaming peripherals and Blade gaming laptops.
With over 200 million users, Razer's software platform includes Razer Synapse (an Internet of Things platform), Razer Chroma RGB (a proprietary RGB lighting technology system supporting thousands of devices and hundreds of games/apps), and Razer Cortex (a game optimizer and launcher).
Razer also offers payment services for gamers, youth, millennials and Gen Z. Razer Gold is one of the world's largest game payment services, and Razer Fintech provides fintech services in emerging markets.
Founded in 2005, Razer is dual headquartered in Irvine, California and Singapore, with regional headquarters in Hamburg and Shanghai and 19 offices worldwide.
PRESS CONTACTS
Americas
Paige Sander
[email protected]
EMEA
Chris Mitchell
[email protected]
China
Evita Zhang
[email protected]
Asia Pacific
Hilmar Hahn
[email protected]
Global
Vanessa Li
[email protected]
Razer — For Gamers. By Gamers.™