In the world of gaming, staying stagnant at the same level is never an option.
At Razer, our focus has always been on continuous improvement, pushing the boundaries of what's possible, and delivering the best for our loyal community. Today, we're sharing the latest advancement we've made to our line of gaming mice, reinforcing our commitment to technological leadership.
Razer's Legacy of Technological Dominance
From the beginning, Razer has been at the forefront of technology and innovation. In recent years, we've introduced groundbreaking features like the Razer Focus Pro 30K Optical Sensor, Optical Mouse Switches Gen-3, and the Razer HyperPolling Wireless technology.
While we always have an eye on the future and the next new products, we are equally passionate about refining our existing lineup, ensuring that our users always have the best in their hands.
Razer's Unwavering Commitment to Innovation
In 2021, we introduced the fastest wired technology with the Razer Viper 8KHz, featuring a true 8000Hz polling rate. In 2022, we innovated further with the introduction of HyperPolling Wireless. This technology achieved a true 4000Hz wireless rate, coupled with the Razer HyperPolling Wireless Dongle and Razer Mouse Dock Pro.
In April 2023, we set a new benchmark with the 8000Hz HyperPolling Wireless update for the Viper Mini Signature Edition.
As a testament to this commitment, we're thrilled to announce our latest upgrade: the extension of the true 8000Hz wireless polling rate to an even wider selection of our gaming mice, further reinforcing our reputation as pioneers in the gaming tech industry.
True 8000Hz Wireless Polling Technology Extends to More Razer Gaming Mice
In layman's terms, Razer's HyperPolling gear with an 8000Hz polling rate can transmit up to 8 times more data every second from the mouse to your PC. This translates to drastically reduced input delays, from the typical 1ms down to just 0.125ms.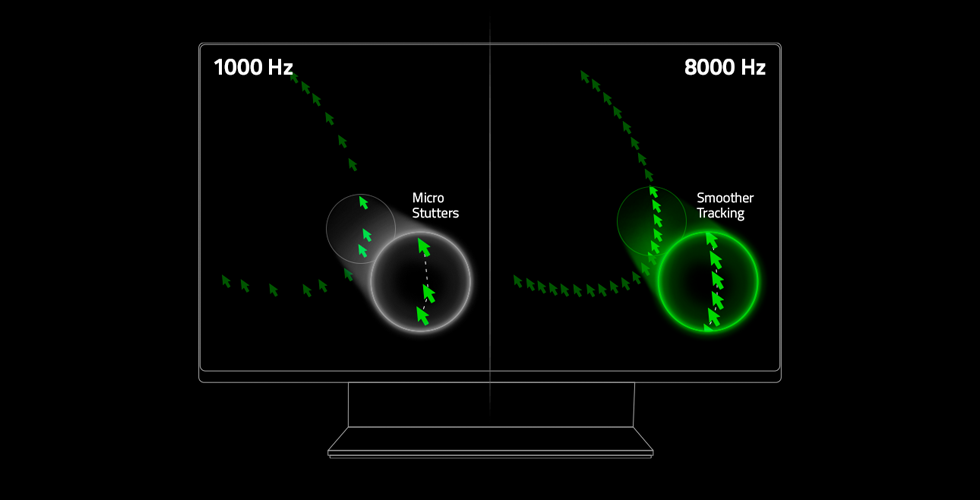 Coupled with the ultra-low latency of our Razer HyperSpeed Wireless technology, this ensures that you have the most responsive and reliable connection ever experienced in gaming. In practice, this results in smoother cursor movements, impeccable accuracy, and the elimination of any micro-stutters. And for those who love tweaking settings, our Razer Synapse software lets you adjust the polling rate to your liking, from 125Hz all the way to 8000Hz, allowing you to tailor your mouse's performance to individual games.
To upgrade a Razer HyperPolling compatible gaming mouse, users must ensure they have the latest version of Razer Synapse installed.
Once updated, within the main Synapse dashboard, users will notice a link under their HyperPolling compatible device indicating "Firmware update available". By clicking on this link, they'll be redirected to Razer.com where the firmware updater can be downloaded.
This update applies to owners of the Viper V2 Pro, DeathAdder V3 Pro, Cobra Pro, Basilisk V3 Pro, and Viper V3 HyperSpeed and is rolling out starting from today, 6th November 2023, 8am PT.
In the fast-paced world of gaming, speed and precision are crucial. We've enhanced our lineup, not just because we can, but because we're tuned into our community's needs. By extending 8000Hz HyperPolling Wireless to more gamers, we're giving more Razer gaming mouse users an even greater edge. At Razer, launching a product is just the beginning; we're committed to continuous improvement and always pushing for the best.