MANILA, PHILIPPINES – Razer™, the leading global lifestyle brand for gamers, is celebrating the conclusion of six hugely successful esports tournaments as part of the 2019 Southeast Asian Games (SEA Games 2019). As the first major sporting event to include esports as a medal sport, the closing ceremony signifies a new dawn for the esports industry.
Prior to its appointment as the official esports partner of the SEA Games 2019, Razer has been on a decade-long mission to legitimize esports. With the success of the SEA Games 2019 esports events, Razer is now placing its focus on the Olympics.
"The esports event was a resounding success and the games are a testament of our esports talent in the region," said David Tse, Global Esports Director at Razer. "While we may have achieved success in the SEA Games, this journey to legitimizing esports is not over. We will continue to strive for esports' inclusion in the Olympics and we look forward to the next SEA Games in 2021."
Overwhelming Support from Fans across the Globe
As the first esports medal event, fans from all walks of life tuned in remotely or visited the San Juan Arena to watch the competitions live. On the first day alone, Razer's streaming platforms recorded over one million views with approximately 70,000 concurrent viewers.
At its peak, the San Juan Arena was filled to maximum capacity and Razer's streaming platforms registered 20 million impressions with 90,000 concurrent viewers. Audiences also spent over 200,000 hours watching the streams on YouTube, making it one of the top 10 trending gaming videos worldwide on the platform.
"We've seen some pretty exciting gameplay and a superb level of competition among the SEA Games esports athletes. A formidable force, these youths have shown grit, resilience and a tremendous respect for their craft and supporters," said Alvin Juban, Philippine SEA Games Esports Union, Co-President & National Team Manager. "We're proud to host them and we hope to see them celebrating again in the next SEA Games."
Razer Receives Honorary Recognition from PHISGOC for Conceiving and Supporting the Event
For its efforts in helping esports receive the same recognition and coverage as traditional sports, Razer has been given an honorary recognition by the Philippine Sea Games Organizational Committee (PHISGOC). A presentation of an official certificate of recognition has been made and will be followed by an announcement on PHISGOC's social channels.
"PHISGOC recognizes Razer, the Official Esports Partner, for being the originator of the push for esports to be included in the 30th SEA Games, through their Co-Founder and CEO, Min-Liang Tan, and our Speaker of the House of Representatives of Philippines and Chairman of PHISGOC, Alan Cayetano," said Juban. "The great success of the esports event in the last one week has proven our vision and strong partnership with Razer."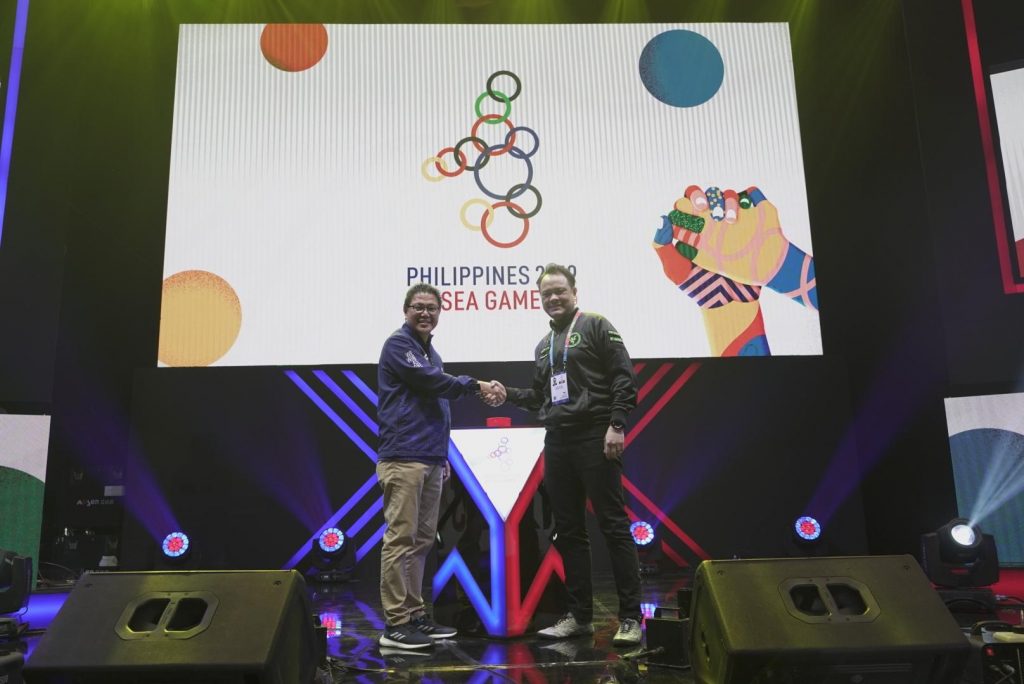 COO of PHISGOC, Ramon Suzara presents a certificate of recognition to
David Tse, Global Esports Director at Razer
Full List of Medalists
| | | | |
| --- | --- | --- | --- |
| Game Titles | Gold | Silver | Bronze |
| Mobile Legends: Bang Bang | Philippines | Indonesia | Malaysia |
| Hearthstone | Malaysia | Thailand | Singapore |
| Arena of Valor | Thailand | Indonesia | Vietnam |
| Dota 2 | Philippines | Thailand | Vietnam |
| StarCraft II | Philippines | Singapore | Vietnam |
| Tekken 7 | Thailand |  Philippines | Philippines |
The SEA Games is an international sporting event sanctioned by the International Olympic Committee. This year's SEA Games event has been organized by PHISGOC. A total of nine countries participated in the SEA Games 2019 esports events.
For more information on SEA Games 2019, please see here.
MEDIA ASSETS
Download images here
Visit the SEA Games 2019 Esports media center here
ABOUT RAZER
Razer™ is the world's leading lifestyle brand for gamers.
The triple-headed snake trademark of Razer is one of the most recognized logos in the global gaming and esports communities. With a fan base that spans every continent, the company has designed and built the world's largest gamer-focused ecosystem of hardware, software and services.
Razer's award-winning hardware includes high-performance gaming peripherals and Blade gaming laptops.
Razer's software platform, with over 70 million users, includes Razer Synapse (an Internet of Things platform), Razer Chroma (a proprietary RGB lighting technology system), and Razer Cortex (a game optimizer and launcher).
In services, Razer Gold is one of the world's largest virtual credit services for gamers, and Razer Fintech is one of the largest online-to-offline digital payment networks in SE Asia.
Founded in 2005 and dual-headquartered in San Francisco and Singapore, Razer has 18 offices worldwide and is recognized as the leading brand for gamers in the USA, Europe and China. Razer is listed on the Hong Kong Stock Exchange (Stock Code: 1337).