MANILA, PHILIPPINES – Razer™, the leading global lifestyle brand for gamers, begins the countdown to the 2019 Southeast Asian Games (SEA Games 2019), an eleven-country international sporting event sanctioned by the International Olympic Committee, and the first to include esports as a medaled competitive discipline.
One week from now, athletes from participating countries will gather at the inaugural SEA Games Esports Opening Ceremony in the Philippines to celebrate history in the making with esports being recognized as a medal sport for the first time. Athletes will battle it out to earn the first SEA Games esport medals in the following titles: Mobile Legends: Bang Bang, Arena of Valor, Dota 2, Starcraft II, Tekken 7 and Hearthstone.
"This marks a major milestone for esports and the SEA Games," said Min-Liang Tan, Razer co-founder and CEO. "Being part of SEA Games is a key step to further legitimize esports as a true world class sport. We are very proud of how far esports has come and will continue to support esports athletes globally."
Well-being of Esports Athletes – Assurance from PhilSGOC
Philippine SEA Games Organizing Committee (PhilSGOC) and Razer are also in close communication about the safety and comfort of the esports athletes. A discussion was held to address the negativity in the press regarding the treatment of SEA Games athletes and organization of competition venues, where the lodging, diet and overall standard of living of all athletes were questioned. PhilSGOC assured Razer that the esports athletes will be cared for. In addition, competition venue (Filoil Flying V Centre) will be well equipped and conducive for the esports competitions.
"We received assurance from PhilSGOC that the well-being of the athletes remains their top priority. Our esports athletes will be given an optimal environment to perform at their best capacity," said Tan. "The athletes are breaking new grounds here, they aren't just fighting for national pride, they are fighting to legitimize the sport. Their presence at the SEA Games will encourage new esports talent to break the mold and make a difference in something that they are truly passionate about."
The Journey to Legitimizing Esports
For over a decade, Razer has been on a mission to promote esports globally and was one of the first brands to invest in, endorse and sponsor esports teams and tournaments. To support esports athletes worldwide, Razer created Team Razer – an elite group of gamers who compete professionally in esports tournaments worldwide. Members of Team Razer include Evil Geniuses, mousesports, Team Alliance, and others.
As the official esports partner of SEA Games 2019, Razer launched a year-long campaign to galvanize support from the region. A Razer delegation led by CEO Min-Liang Tan met with PhilSGOC and the Philippine Olympic Committee (POC) on multiple occasions in 2018, steadily working towards the inclusion of esports in SEA Games 2019 – one that will finally see fruition this December.
Well-prepared and perfectly equipped
Razer will arm all competing athletes with high-performing esports peripherals. The recently-launched Razer Viper, a lightweight gaming mouse with optical switches developed in close collaboration with esports professionals, will be the official gaming mouse for SEA Games 2019. To ensure all participating athletes are well-prepared and ready to perform at their very best, Razer also has organized a series of professional training bootcamps leading up to the event.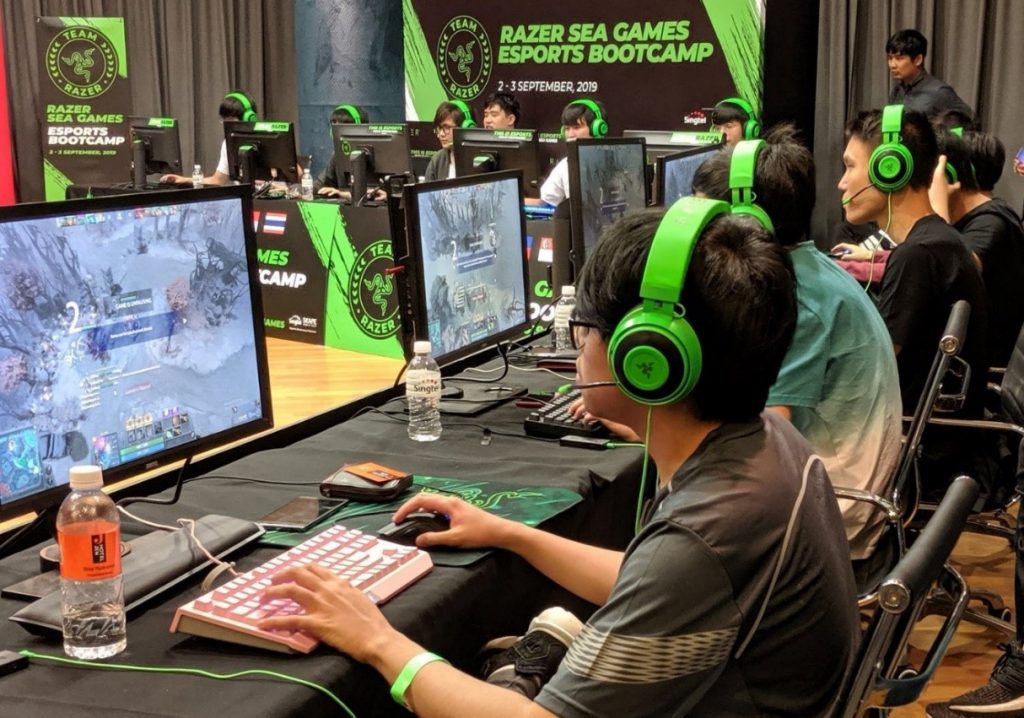 Team Singapore (foreground) training against Team Thailand in the recent Razer SEA Games Esports Bootcamp, held in Singapore from 2-3 Sep 2019.
In September this year, the first Razer SEA Games Esports Bootcamp was held in Singapore for Dota 2 teams across the region. SEA Games national athletes from Singapore, Indonesia, Thailand and Philippines were coached by Sam 'Bulba' Sosale from top esports team, Evil Geniuses.
This momentum continued in November, where a second bootcamp was held for Tekken 7 national athletes from Indonesia, Malaysia, Philippines and Thailand. They were coached by Kim "JDCR" Hyunjin, one of the most successful Tekken players in the world.
The inaugural SEA Games 2019 Opening Ceremony will be held in Filoil Flying V Centre in Manila, Philippines on December 5th, 2019, followed by an exciting, busy schedule of playoffs for each game with the finals being held on December 10th, 2019.
Streaming of key matches and game schedules will be made available on the official SEA Games Razer page for esports. For more information, please see here.
To attend the opening ceremony in Manila, please register here.
MEDIA ASSETS
Download images here
ABOUT RAZER
Razer™ is the world's leading lifestyle brand for gamers.
The triple-headed snake trademark of Razer is one of the most recognized logos in the global gaming and esports communities. With a fan base that spans every continent, the company has designed and built the world's largest gamer-focused ecosystem of hardware, software and services.
Razer's award-winning hardware includes high-performance gaming peripherals and Blade gaming laptops.
Razer's software platform, with over 70 million users, includes Razer Synapse (an Internet of Things platform), Razer Chroma (a proprietary RGB lighting technology system), and Razer Cortex (a game optimizer and launcher).
In services, Razer Gold is one of the world's largest virtual credit services for gamers, and Razer Fintech is one of the largest online-to-offline digital payment networks in SE Asia.
Founded in 2005 and dual-headquartered in San Francisco and Singapore, Razer has 18 offices worldwide and is recognized as the leading brand for gamers in the USA, Europe and China. Razer is listed on the Hong Kong Stock Exchange (Stock Code: 1337).