IRVINE, Calif.  – RazerTM, the leading global lifestyle brand for gamers, today announced a one-year partnership with 100 Thieves, a professional American esports gaming and lifestyle organization founded by veteran Call of Duty® champion, Matt "Nadeshot" Haag.
With this new partnership, 100 Thieves will be outfitted with Razer's esports-grade peripherals including mice, keyboards, headsets, and surfaces for all training and tournament purposes for the next year.
"100 Thieves is a team to be reckoned with as we've seen with their solid performance this year alone. They are a welcomed new addition to our growing Team Razer roster of talent," said Min-Liang Tan, Razer co-founder and CEO. "The team is bound for high achievements and we are thrilled to support them every step of the way."
The star-studded League of Legends® team features veteran players such as Spring Split MVP "Aphromoo" and North American League of Legends Championship Series (NA LCS) Coach of the Split Award winner "Pr0lly." During this year's NA LCS, 100 Thieves placed 2nd in the Spring Split and 1st place in the regular season standings.
In addition to competing in League of Legends, 100 Thieves recently announced a new Clash Royale® team to compete in the mobile esports scene.
"We are beyond excited to partner with Team Razer," said Matt "Nadeshot" Haag, 100 Thieves Founder and CEO. "We have built a competitive League of Legends roster and Razer's high-performance gaming devices will push us further as our team continues to evolve."
For more information on Team Razer visit https://www.razer.com/team.
For more information on 100 Thieves: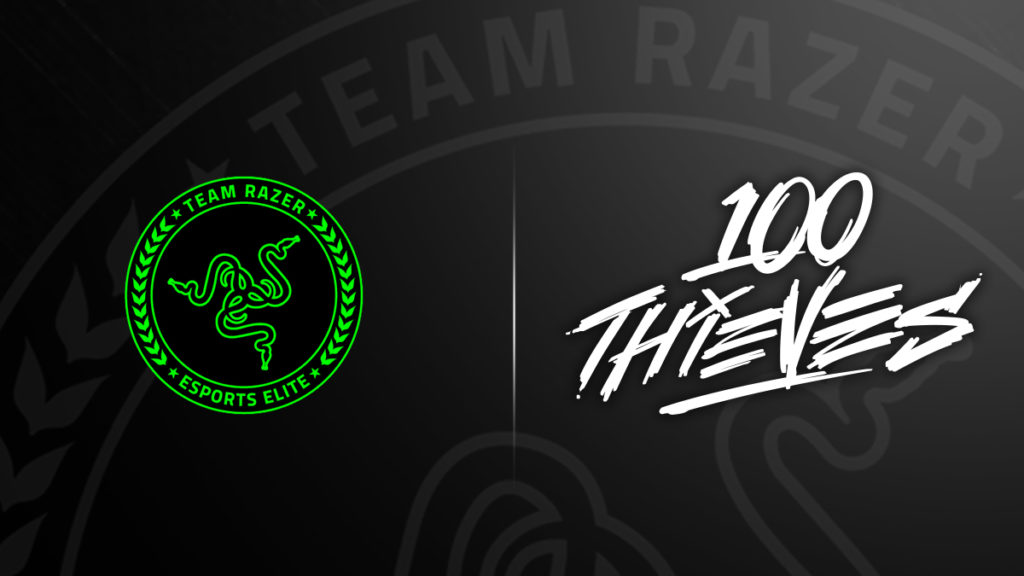 ABOUT RAZER
RazerTM is the world's leading lifestyle brand for gamers.
The triple-headed snake trademark of Razer is one of the most recognized logos in the global gaming and esports communities. With a fan base that spans every continent, the company has designed and built the world's largest gamer-focused ecosystem of hardware, software and services.
Razer's award-winning hardware includes high-performance gaming peripherals, Blade gaming laptops and the acclaimed Razer Phone.
Razer's software platform, with over 40 million users, includes Razer Synapse (an Internet of Things platform), Razer Chroma (a proprietary RGB lighting technology system), and Razer Cortex (a game optimizer and launcher).
Razer services include Razer zGold, one of the world's largest virtual credit services for gamers, which allows gamers to purchase virtual goods and items from over 2,500 different games.
Founded in 2005 and dual-headquartered in San Francisco and Singapore, Razer has nine offices worldwide and is recognized as the leading brand for gamers in the USA, Europe and China. Razer is listed on the Hong Kong Stock Exchange (Stock Code: 1337).
ABOUT 100 THIEVES
100 Thieves is a gaming, lifestyle and esports organization built at the intersection of competitive gaming, entertainment and streetwear. 100 Thieves was founded in 2016 by Matt "Nadeshot" Haag, the former OpTic Gaming Call of Duty captain, X Games gold medalist and 2014 Esports Athlete of the Year.  In 2017, the company's growth accelerated with an investment from Dan Gilbert, majority owner of the Cleveland Cavaliers, in conjunction with receiving a franchise in the North American League of Legends Championship Series (NA LCS). The company has since seen tremendous competitive success, securing first place in the 2018 NA LCS Spring Split regular season, led by league MVP Aphromoo and Coach of the Split Pr0lly. 100 Thieves has sold out its two most recent apparel collections and has amassed a social following in the millions. 100 Thieves produces original online content, including the #1 esports docuseries The Heist, which premiered in January 2018. For more information, visit 100thieves.com or follow the team on YouTube, Instagram and Twitter.
Press Contacts:
Americas
Alain Mazer
[email protected]
Kevin Allen
[email protected]
Europe/Africa
Jan Horak
[email protected]
Asia Pacific
Raymond Lau
[email protected]
China
Leonard Le
[email protected]
Razer – For Gamers. By Gamers.™
# # #