The world's first Razer Chroma gaming chair, limited-edition apparel, and cutting-edge peripherals redefine gaming-inspired fashion at RazerCon 2023.
IRVINE, Calif. – Razer™, the leading global lifestyle brand for gamers, and Dolce&Gabbana, renowned Italian luxury fashion house, unveiled their highly-anticipated collaboration collection at RazerCon 2023. Brought to the center stage by Min-Liang Tan, CEO and Co-Founder of Razer, the groundbreaking collection merges high-end fashion with cutting-edge gaming technology, featuring ready-to-wear apparel, gaming peripherals, and the world's first Razer Chroma RGB chair.
"Razer is no stranger to pushing boundaries in both gaming and style, as evidenced by our in-house apparel collections and fashion-forward partnerships. We're excited to collaborate on a new line of apparel and hardware peripherals to the gaming and fashion community," said Addie Tan, Head of Lifestyle at Razer. "The Dolce&Gabbana | Razer collaboration represents a bold leap into the intertwined future of gaming and fashion. Every piece in this collection is a testament to the unique synergy of technology and design, appealing to the discerning tastes of both gaming enthusiasts and fashion aficionados."
Embodying the distinct acid green and gold colorways of both brands, the collection tastefully fuses Razer's signature gamer aesthetic with Dolce&Gabbana's innovation and love for craftsmanship, elevating the union of gaming and fashion to unparalleled heights.
"Our collaboration with Razer has been an inspiring journey of creativity and innovation," said Davide Sgherri, Head of New Media at Dolce&Gabbana. "By seamlessly blending gaming's dynamic energy with Dolce&Gabbana iconic style, we have crafted a collection that transcends traditional fashion boundaries. It's a remarkable fusion that captures the essence of both worlds, delivering a truly extraordinary suite of products. Tradition and innovation have always been at the heart of our philosophy from the very beginning. This is an exciting new milestone on our journey."
Functional Fashion Elevated
The Dolce&Gabbana | Razer ready-to-wear collection showcases a thoughtfully curated range of apparel, featuring statement pieces and versatile essentials that embrace the future of fashion while paying homage to the sleek and edgy gamer aesthetic.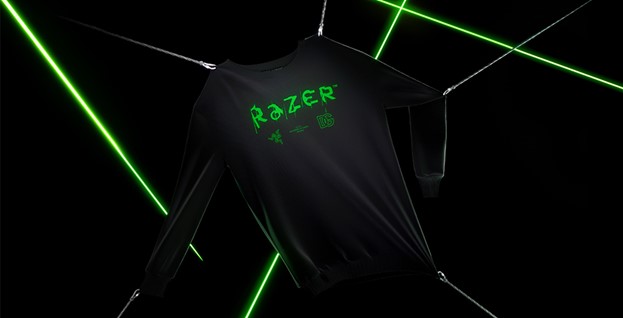 Domenico Dolce and Stefano Gabbana have created a hyper-recognizable agender Special Collection consisting of oversized T-shirts, cargo pants and edgy hoodies combining the iconic Razer and Dolce&Gabbana colors. Customized with both brands' logos and computer programming strings, the collection symbolizes the constant and endless pursuit of innovation.
Luxury Fashion Meets High Performance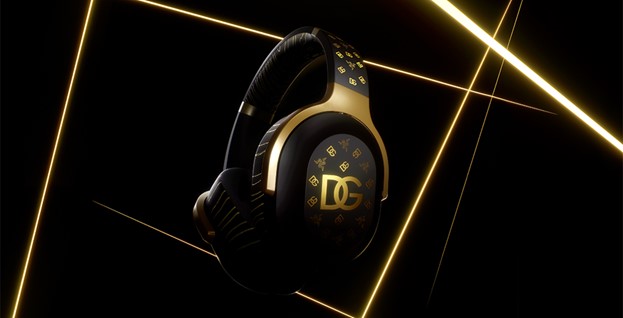 The Dolce&Gabbana | Razer Barracuda boasts a sleek silhouette adorned with the iconic Razer Triple-Headed Snake logo and the Dolce&Gabbana monogram in an elegant 24K gold plated finish, complemented by a meticulous zebra print overlay on the earcups. Powered by Razer's TriForce Titanium 50mm drivers and THX Spatial Audio, this headset delivers detailed and punchy sound, ensuring an immersive gaming experience. The FlowKnit Memory Foam headband and earcup padding provide long-term comfort, making extended gaming sessions a pleasure.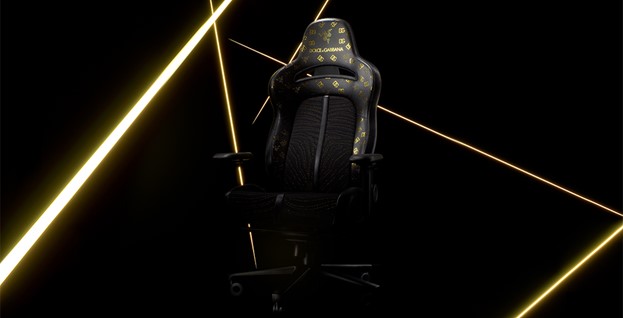 The Dolce&Gabbana | Razer Enki Pro redefines ergonomic excellence and artistic flair, featuring the seamless integration of Razer's Triple-Headed Snake logo and Dolce&Gabbana's signature monogram, as well as a luxurious 24K gold plated Dolce&Gabbana logo. Armed with 110-degree extended shoulder arches, an ultrawide 21" seat base, a 152-degree recline, a built-in lumbar arch, and luxurious Alcantara leather backrest and seat base upholstery, this gaming chair embodies the epitome of comfort and luxury.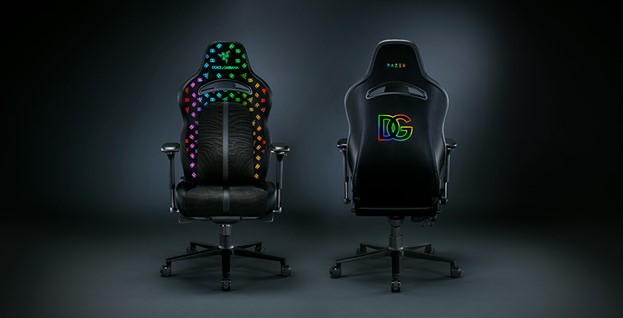 Making gaming history, the Dolce&Gabbana | Razer Enki Pro – Chroma Edition is the world's first Razer Chroma RGB gaming chair, produced as a conceptual showcase, while the striking gold iteration will be available for purchase, allowing enthusiasts to own a piece of gaming luxury.
The limited-edition Dolce&Gabbana | Razer collection will be available for purchase during the festive season of late 2023, with only 1,337 units available globally for the hardware products. This collaboration marks a groundbreaking moment in the worlds of gaming and fashion, bringing forth a collection that celebrates the essence of both industries while pushing the boundaries of style and technology.
For more information, please visit LINK.
PRODUCT ASSETS
Download product images here
ABOUT DOLCE&GABBANA
Established in 1984, Dolce&Gabbana is an international leader in the fashion and luxury goods sector. The founders, Domenico Dolce and Stefano Gabbana, have always been the creative and stylistic source of all the brand's activities as well as the drivers behind the development strategies.
The Group creates, produces and distributes high-end clothing, leather goods, footwear, accessories, jewellery and watches. The brand is present in the prêt-à-porter segment with Men's, Women's and Children's Collections.
Since 2012, the brand has developed the Alta Moda project which further expanded into Alta Sartoria, Alta Gioielleria and Alta Orologeria Collections.
In 2021, Dolce&Gabbana launched Dolce&Gabbana Casa, a homeware line dedicated to furniture and furnishing complements.
The following year, the company announced the creation of Dolce&Gabbana Beauty with direct control of the manufacture, sales and distribution of its fragrance and make-up products.
The Eyewear category is entrusted to EssilorLuxottica, a licensee partner.
Dolce&Gabbana currently has various collaborations in the Food & Beverage and Lifestyle sectors, thanks to virtuous synergies with Italian partners of primary importance that share the vocation for excellence and the promotion of Made in Italy in their respective fields with the brand.
ABOUT RAZER
Razer™ is the world's leading lifestyle brand made For Gamers. By Gamers.
The triple-headed snake trademark of Razer is one of the most recognized logos in the global gaming and esports communities. With a fan base that spans every continent, Razer has designed and built the world's largest gamer-focused ecosystem of hardware, software and services.
Razer's award-winning hardware includes high-performance gaming peripherals and Blade gaming laptops.
With over 200 million users, Razer's software platform includes Razer Synapse (an Internet of Things platform), Razer Chroma RGB (a proprietary RGB lighting technology system supporting thousands of devices and hundreds of games/apps), and Razer Cortex (a game optimizer and launcher).
Razer also offers payment services for gamers, youth, millennials and Gen Z. Razer Gold is one of the world's largest game payment services, and Razer Fintech provides fintech services in emerging markets.
Founded in 2005, Razer is dual headquartered in Irvine, California and Singapore, with regional headquarters in Hamburg and Shanghai and 19 offices worldwide.
DOLCE&GABBANA PRESS CONTACT
RAZER PRESS CONTACTS
Americas
Paige Sander
[email protected]
EMEA
Maren Epping
[email protected]
China
Evita Zhang
[email protected]
Asia Pacific
Hilmar Hahn
[email protected]
Global
Vanessa Li
[email protected]