Razersuperfuture is a fashion eyewear, and an expression of gaming meets fashion, designed exclusively for gamers.  
IRVINE, Calif. – Razer™, the leading global lifestyle brand for gamers and Retrosuperfuture (RSF) announced an exciting new collaboration – Razersuperfuture – curated by D-CAVE, the lifestyle space of the metaverse. This is Razer's first collaboration on fashion eyewear and the partnership sets out RSF's foray into the gaming scene as a natural extension of its unique brand positioning at the forefront of contemporary streetwear market.
"Razersuperfuture" is an exclusive sunglass model designed to blend Retrosuperfuture's Italian craftmanship with Razer's iconic design aesthetics. The mask-like silhouette was inspired by sportswear pieces with urban streetwear vibes. The model features chunky acetate rims and temples, onto which a wide lens has been mounted to offer extensive coverage and protection in use. A unique high-tech lens has also been applied – a photochromic lens to ensure these sunglasses can be used both indoors and outdoors, as well as a blue light protection finish for comfort during extended gaming sessions.
"Razer is no stranger to the fashion scene, having collaborated with renowned fashion and lifestyle brands as well as launched our own lines of apparels," said Addie Tan, Associate Director of Business Development at Razer. "We're excited to work with Retrosuperfuture on our first eyewear to outfit the gamers from their gaming sessions to their everyday activities in our quest to outfit every aspect of the gamers' world."
"Retrosuperfuture and Razer have come together to create a collection of eyewear that blends the best of both worlds," said Daniel Beckerman, CEO and Founder of Retrosuperfuture. "The result is a harmonious union of style and function, technical eyewear that is not only stylish but also built to withstand the rigors of intense gaming sessions."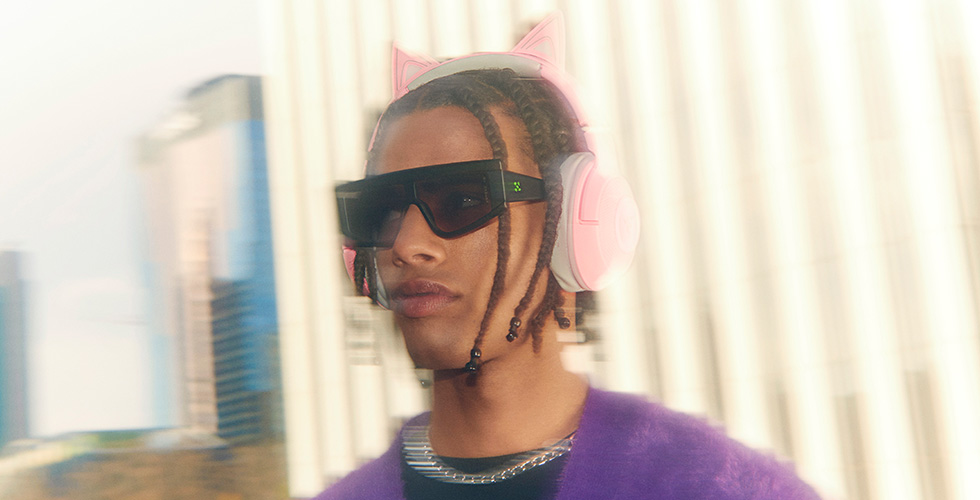 To mark this model and celebrate the exclusive collaboration, the lenses will be scribed with Razer's tagline, "For Gamers. By Gamers". In addition, each eyewear would be uniquely serialized on the right outer temples. The inscriptions will complement Razer's iconic acid green branding.
Curated by D-CAVE, a community space for the digital culture savvy, aiming to become the reference lifestyle space for the new Web 3.0 audience: a consumer marketplace of digital and physical wearables, this collaboration affirms the convergence of gaming culture in contemporary fashion, further positioning it at the center of contemporary pop culture.  It is a testament of the impact of gaming within the cultural and fashion scene. Razersuperfuture exemplifies the convergence between two cultural scenes of gaming and fashion.
"Gaming and fashion have always been our passion, and we are thrilled to curate this partnership between two top brands like Razer and RSF," said Stefano Rosso, co-founder and CEO of D-CAVE. "We believe gaming and Web 3.0 will change the world for the upcoming generations and our role is to be there to facilitate and enhance the best lifestyle projects for this new group of digital culture communities."
The limited-edition glasses will be available from May 5, 2023, at $239.00 USD / 249€ MSRP exclusively on Razer.com and in select Retrosuperfuture stores.
For more information, please visit Razersuperfuture.
PRODUCT ASSETS
Download product images here