IRVINE. Calif. – Razer™, the leading global lifestyle brand for gamers (Hong Kong Stock Code: 1337), today announced the Razer Kiyo Pro, a USB camera with a high-performance Adaptive Light Sensor to deliver market-leading image fidelity, even in low-light conditions. Combining an ultra-sensitive CMOS sensor with STARVIS™* technology, the Kiyo Pro brings a professional level of image quality to video conferencing and streaming.
With working from home now being a large part of professional life, the demand for better image quality on video calls is greater than ever. Built-in laptop cameras lack the resolution and framerates for professional looking conference calls and most webcams struggle to cope with less-than-ideal lighting, giving a dim, blurry video image which can impact a professional presentation. The Kiyo Pro solves these issues with a high-performance Adaptive Light Sensor, providing superior imaging under almost any lighting conditions.
"For both video conferencing and streaming, smooth and crystal-clear video quality under any lighting conditions is a vital part of the experience," said Alvin Cheung, Senior Vice President of Razer's peripherals business unit. "The Kiyo Pro, with its fantastic low-light performance, is ideal for those working from home who want to impress their customers and colleagues, and for streamers wanting to entertain their audience with a bright, vibrant image."
Advanced Imaging. Absolute Fidelity.
At the heart of the new Kiyo Pro is the advanced Type 1/2.8 CMOS sensor with STARVIS™ technology. STARVIS™ is a back-illuminated pixel technology, used in surveillance camera CMOS sensors, to create high quality images from visible and near infrared light regions. By incorporating this technology into the Kiyo Pro, video conference calls will have a consistently bright, clear image, even under a wide variety of typical work-from-home lighting conditions such as dim rooms, harsh lighting, backlighting or just screen lighting.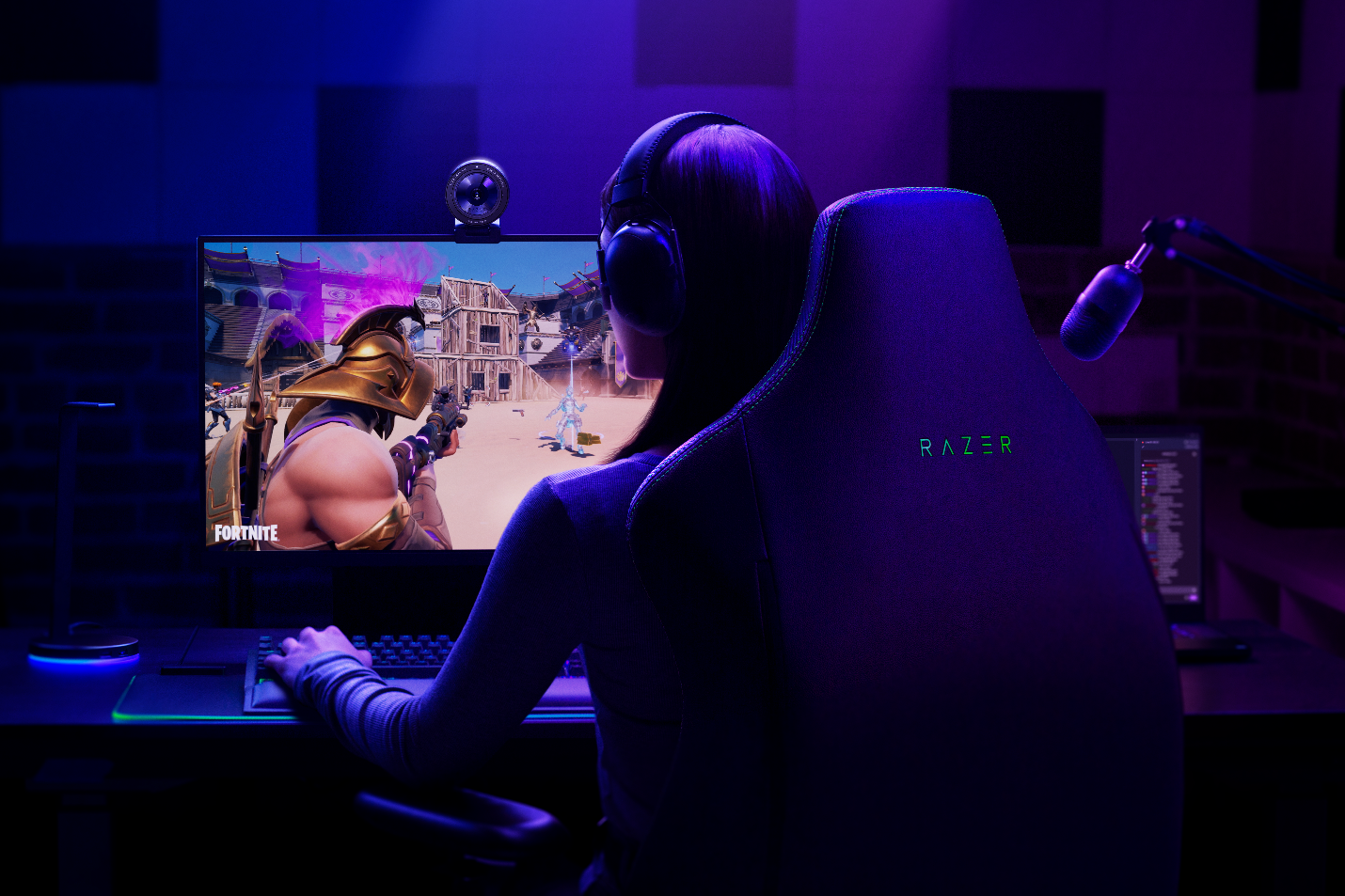 The Kiyo Pro is capable of uncompressed full HD 1080p 60FPS, for unsurpassed image fidelity and detail. The HDR 30FPS mode ramps up the dynamic range, correcting under or over exposed areas on the fly, eliminating silhouetting if the subject is lit from behind, for vibrant colors and even lighting, across the whole image.
The wide-angle lens on the Kiyo Pro gives a choice of three fields of view: 103°, 90° or 80°, making it ideal for video conferencing or streaming. The 103° view is wide enough to include everyone in a group video call or allow stream viewers to clearly see live activities, while the 80° view is perfect for professional headshot view or an engaging facecam window on gaming streams.
Flexible and fast
The Kiyo Pro has a range of extra features to adapt to any set-up and situation. With flexible mounting options for monitor, tabletop or tripod mounting, the Kiyo Pro can be positioned perfectly for use as a streaming camera regardless of the space available. The wide field of view and tripod mounting make the Kiyo Pro ideal for group conference calls, and its 16bit, omni-directional stereo microphone array ensures all participants' voices are picked up.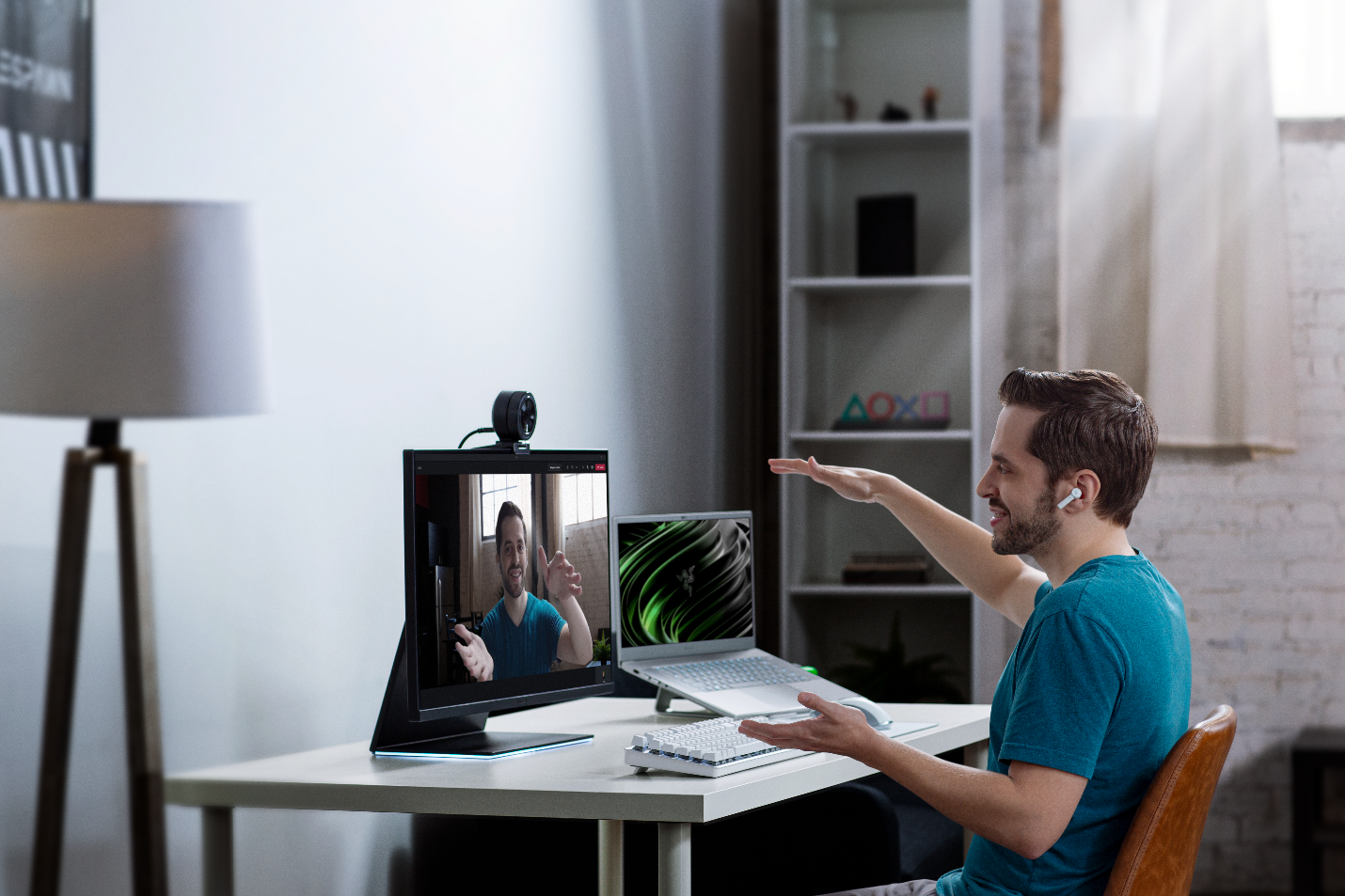 For maximum uncompressed video performance, the Kiyo Pro utilizes a USB 3.0 connection to pass a 5GB/s signal. A separate privacy cover is included to both protect the lens and assure user privacy when not in use.
For more information on the Razer Kiyo Pro, please see here.
* STARVIS™ is a trademark of the Sony Corporation.
ABOUT THE KIYO PRO
Camera Specifications
Connection type: USB3.0
Image resolution: 2.1 Megapixels
Video Resolution: 1080p @ 60/30/24FPS / 720p @ 60FPS / 480p @ 30FPS / 360p @ 30FPS
Video encoding:

USB 3.0: YUY2 & nv12 (uncompressed)
USB 2.0: H264 codec (compressed)

Still Image Resolution: 1920×1080
Image Quality Settings Customization: Yes
Diagonal Field of View (FOV): 103°, 90°, 80°
Focus Type: Auto
Mounting Options: L-shape joint and Tripod (Not included)
Cable Length: 1.5 meters braided cable
Microphone Specifications
Channels: Stereo
Audio Codec: 16bit 48KHz
Polar patterns: Omni-directional
Sensitivity: -38dB
System Requirements
PC with a free USB port
Windows® 8 (or higher)
Internet connection
500 MB of free hard disk space
Compatible with Open Broadcaster Software and Xsplit
PRICING AND AVAILABILITY
$199.99 USD / €209.99 EUR
Razer.com: February 23rd, 2021
Authorized retailers: Q1, 2021
PRODUCT ASSETS
Please find the Razer Kiyo Pro press kit here.
ABOUT RAZER
Razer™ is the world's leading lifestyle brand for gamers.
The triple-headed snake trademark of Razer is one of the most recognized logos in the global gaming and esports communities. With a fan base that spans every continent, the company has designed and built the world's largest gamer-focused ecosystem of hardware, software and services.
Razer's award-winning hardware includes high-performance gaming peripherals and Blade gaming laptops.
Razer's software platform, with over 100 million users, includes Razer Synapse (an Internet of Things platform), Razer Chroma RGB (a proprietary RGB lighting technology system), and Razer Cortex (a game optimizer and launcher).
In services, Razer Gold is one of the world's largest virtual credit services for gamers, and Razer Fintech is one of the largest offline-to-online digital payment networks in SE Asia.
Founded in 2005 and dual-headquartered in Irvine (California) and Singapore, Razer has 17 offices worldwide and is recognized as the leading brand for gamers in the USA, Europe and China. Razer is listed on the Hong Kong Stock Exchange (Stock Code: 1337).