Featuring the new AMD Ryzen™ 9 7940HS processor and Ryzen AI, powerful NVIDIA® GeForce® RTX™ 40-Series graphics, and expandable DDR5 memory, the Razer Blade 14 offers big performance in a small size.
IRVINE, Calif. – Razer™, the leading global lifestyle brand for gamers, today announced the latest evolution of their hyper-portable 14-inch gaming laptop – the Razer Blade 14 – in both classic matte black and stunning mercury white colorways.
Featuring the all-new AMD Ryzen 9 7940HS processor with the latest NVIDIA GeForce RTX 40 Series laptop graphics and faster DDR5-5600MHz SO-DIMM memory enables the Blade 14 to slice effortlessly through demanding gaming and creative workloads. Users experience this power through an immersive 16:10 aspect ratio QHD+ 240Hz display with stunning color depth and contrast.
"The Razer Blade 14 is the perfect machine for gamers and creators looking for top of the line performance in a compact and highly mobile package," says Travis Furst, Head of Laptop Division at Razer. "With this announcement, our full 2023 laptop portfolio now offers Blades perfectly suited for every use case – from peak portability to full desktop replacement, all with incredible performance and signature Razer Blade styling."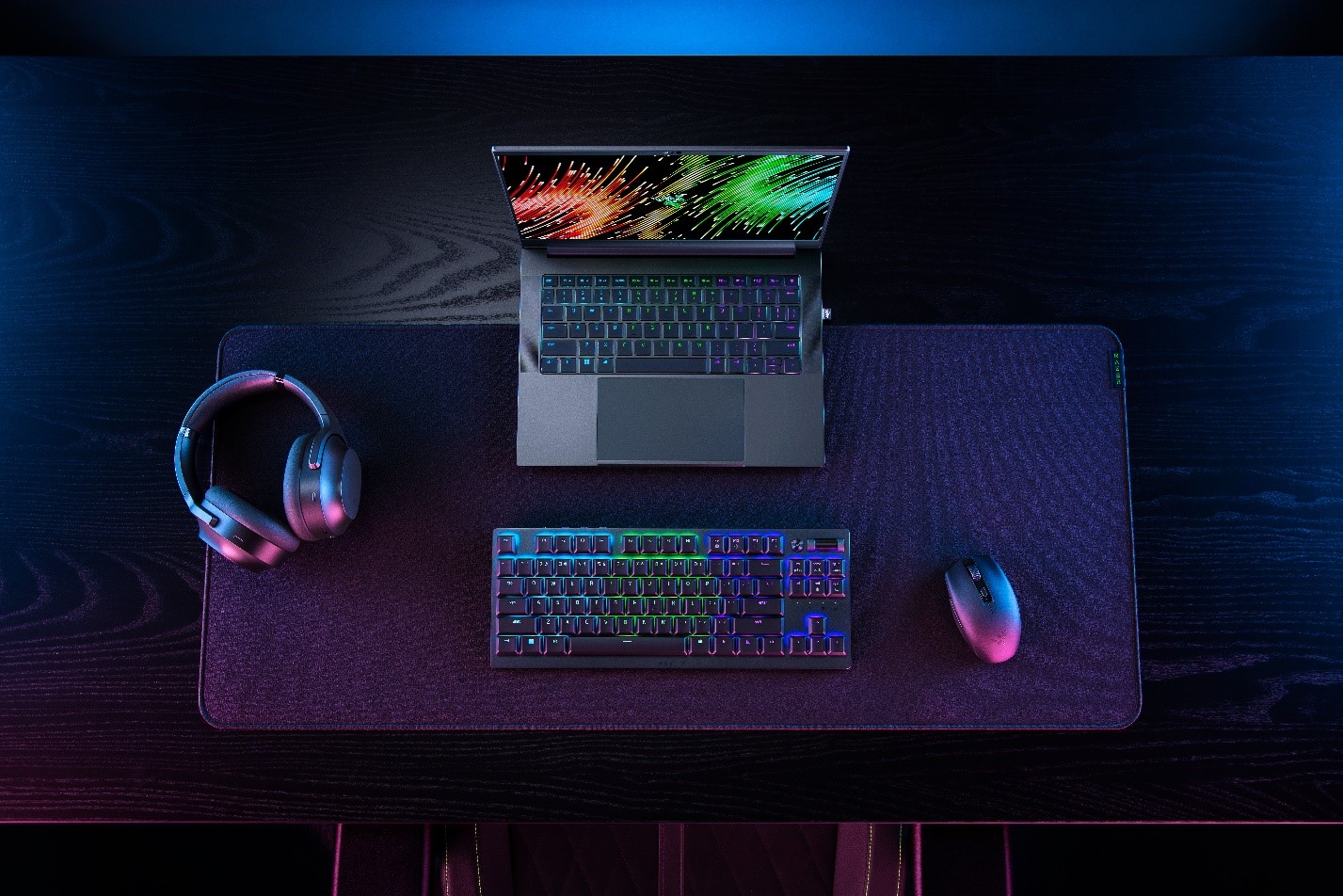 SMALL SIZE
The new Blade 14 is the most portable chassis in the Razer Blade line of premium gaming laptops, designed to deliver top-tier performance at home, on the road, and anywhere in-between. With a slim profile of just 0.71 in. (17.99 mm), and weighing only 4.05 lbs. (1.84 kg), the Blade 14 is made to move.
CONSTANTLY CONNECTED
A comprehensive array of ports keeps users connected with two USB4 Type-Cs and two USB 3.2 Gen 2 Type-A ports that support a full suite of peripherals, including Thunderbolt™ docks. In addition to the plethora of ports to keep users connected in-person, the 1080p webcam enables users to connect to the outside world, featuring passwordless sign-in enabled by Windows Hello and a new mechanical privacy shutter for greater security.
PLAY ALL DAY
Equipped with a larger 68.1 Wh battery, the new Razer Blade 14 provides up to 10 hours of life[1] to get users through a full day of work or play. Within Razer Synapse, a new Battery Health Optimizer feature has been added, allowing users who like to stay plugged in, the ability to limit the charge capacity of the battery and better protect its health over the years. For the most mobile users moving, quick-charging is supported via USB-C – capable of reaching 80% charge in 1-hour[2]– to ensure less time is spent tethered to an outlet.
Combining a mobile design with mobile first features make Blade 14 the perfect choice for gamers, creators, and professionals who require maximum productivity and performance while on the move. Gamers can jump into play right away, with access to hundreds of high-quality games through the included one month of Xbox Game Pass Ultimate.
[1] Video playback battery test of the Razer Blade 14 (2023). Tested with NVIDIA RTX 4060. Testing was conducted by Razer's technical team in April 2023 with the display brightness set to 125 nits, keyboard lighting off, and wireless enabled. Actual battery life may be less and can vary by usage, software, power settings, and other conditions. The maximum battery life will decrease with time and usage of the system.
[2] Charge time based on device on in standby mode. Actual device charge times may vary depending on device usage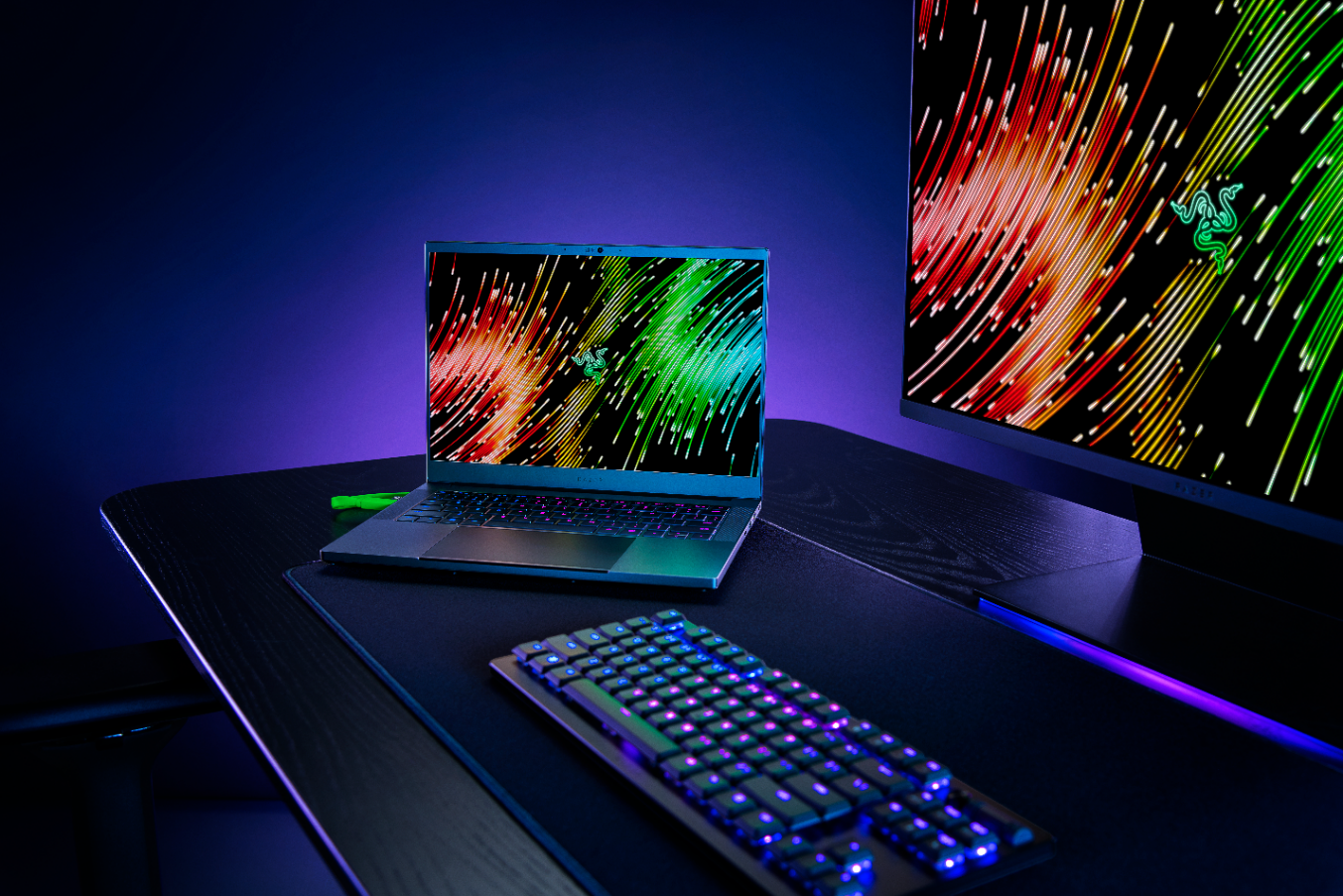 BIG PERFORMANCE
At the heart of the laptop is the new AMD Ryzen 9 7940HS processor, the world's fastest ultrathin processor[1], boosting up to 5.2GHz and featuring AMD Ryzen AI, the world's first dedicated artificial intelligence engine on a Windows x86 processor[2]. AMD Ryzen AI hardware is integrated directly into the processor to handle AI workloads as quickly and efficiently as possible while freeing up the CPU and GPU for traditional, non-AI tasks. Ryzen AI gives gamers and creators access to AI-powered technology, delivering accelerated multitasking, increased productivity, advanced collaboration, and improved efficiency. Continuing the trend of processor-integrated security, Blade 14 will feature Microsoft Pluton™[3] to better protect users' data whether they are at home, in the office, or if the device is lost or stolen.
Just as powerful as it is mobile, the new Blade 14 features up to the all-new GeForce RTX 4070 laptop GPU capable of achieving up to 140 W TGP to deliver more graphics power per cubic inch than any other 14-inch gaming laptop[4]. Beyond raw power, the Blade 14's RTX 40 Series Laptop GPU can leverage AI-driven NVIDIA DLSS 3 frame generation to multiply performance even further.
Continuing a legacy of innovation, the Blade 14 features a bespoke vapor chamber cooling solution with the world's thinnest exhaust fins (.05 mm) to increase CPU cooling performance by up to 5% while maintaining the overall compact form factor.
[1] Based on testing by AMD as of 12/23/2022. Testing results demonstrated in DaVinci Resolve BlackMagic, V-Ray, Blender, Cinebench R23 nT, and Handbrake 1:5:1. Ryzen 9 7940HS system: AMD reference motherboard configured with 4x4GB LPDDR5, 1TB SSD, Radeon 780M Graphics, Windows 11 64-bit. Apple M1 Pro system: Macbook M1 Pro 18 configured with 32GB LPDDR5, 1TB SSD, MacOS Monterey (12.6.1). System manufacturers may vary configurations, yielding different results.
[2] As of August 2022, select Ryzen™ 7040 processors for mobile with dedicated AI hardware are the only x86 PC processors with dedicated AI hardware.
[3] Microsoft Pluton is a technology owned by Microsoft and licensed to AMD. Microsoft Pluton is a registered trademark of Microsoft Corporation in the United States and/or other countries. Learn more at https://www.microsoft.com/security/blog/2020/11/17/meet-the-microsoft-pluton-processor-the-security-chip-designed-for-the-future-of-windows-pcs/.
[4] Based on latest market data as of 3/20/23.
EXPANDABLE DDR5 MEMORY
The new Blade 14 ships with up to 32 GB of blazing fast DDR5-5600 MHz memory but for users looking to take their Blade 14 experience to the next level, the slotted memory is upgradeable up to 64 GB. Users looking for greater storage capacity can also upgrade the 1 TB NVMe SSD up to 4 TB. This means gamers and creators alike can customize their system to suit their specific needs and achieve new heights.
EDGE-TO-EDGE CLARITY
Matching power with pixels, the new Blade 14 is equipped with a modern 16:10 QHD+ display, packing in more pixels per inch of glorious gameplay.  A fast 240 Hz refresh rate, an incredibly low 3 ms low response time, and AMD FreeSync (TM) Premium guarantee a crisp, frame-perfect gaming experience. Content creators will appreciate the vivid custom-calibrated display achieving 500 nits peak brightness and 100% DCI-P3 color space coverage for rich, detailed visuals.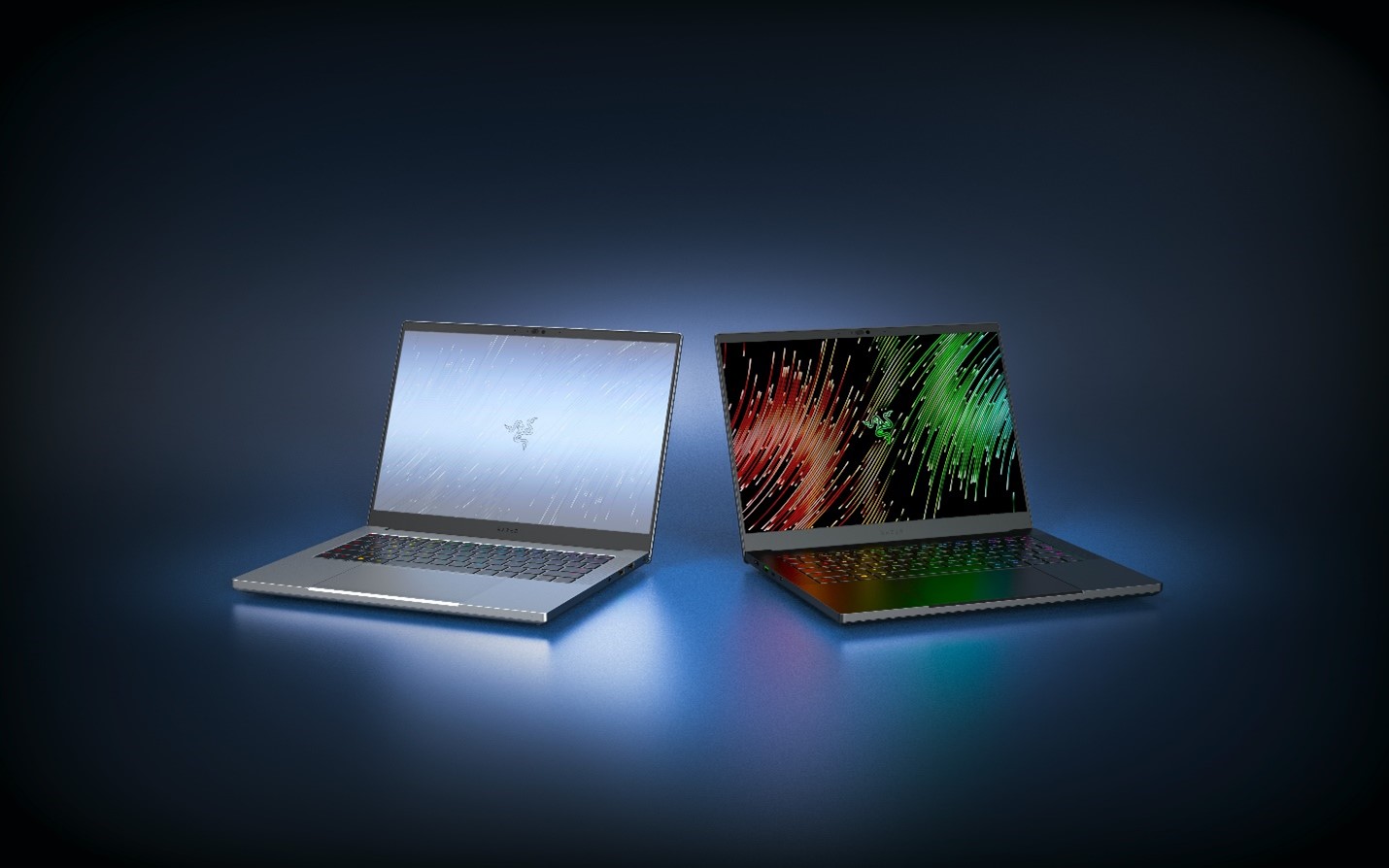 PRECISION CRAFTED
The Blade 14 combines exceptional performance and portability in Razer's signature sleek CNC cut anodized aluminum body, ensuring superior rigidity and durability. The silky-smooth glass touchpad has been expanded to give users more space to play and with Windows precision drivers, every swipe feels quick and accurate feedback. The laptop's two front firing speakers are housed behind flush laser milled grills, allowing for an immersive audio experience and a sleek aesthetic. Connecting via the 3.5mm audio output further enhances the soundscape with THX Spatial, to provide rich and immersive positional audio. The user experience is powered by Windows 11, delivering a modern and intuitive interface for everything from productivity tasks to hardcore gaming and professional creative work.
AWARD-WINNING SUPPORT
All Blade laptops are protected by a 1-year manufacturing warranty and a 2-year battery warranty backed up by Razer's award-winning customer support. For added peace of mind, users can also enroll in RazerCare, an optional protection plan that offers extended warranty coverage and dedicated 24/7 customer support.
The Razer Blade 14 is the ultimate combination of performance and portability, for users who want to experience extraordinary gaming and creative power on-the-go.
ABOUT THE RAZER BLADE 14
AMD Ryzen 9 7940HS Processor (8 Cores/16 Threads/5.2 GHz)
NVIDIA GeForce RTX 4060/4070 Laptop GPU (140 W TGP)
Up to 32 GB DDR5-5600 MHz RAM (expandable to 64 GB)
14" 16:10 QHD+ 240Hz Display (up to 500 nits; 100% DCI-P3; <3 ms response)
71" (17.99 mm) thin; 4.05lbs (1.84 kg) light
Matte Black | Mercury White
PRICE & AVAILABILITY
Starts at $2,399.99 USD / €2799,99 MSRP
Available beginning June 14, 2023 at 8am PT. Customers who purchase at Razer.com and RazerStore will receive a limited-edition Chroma Joyplot Razer Skin ($59.99 value) while supplies last.
For more information on the Razer Blade 14, please visit Razer.com.
PRODUCT ASSETS
Download product assets here.
Product Trailer: https://youtu.be/rMLzeRghtvY
ABOUT RAZER
Razer™ is the world's leading lifestyle brand made For Gamers. By Gamers.
The triple-headed snake trademark of Razer is one of the most recognized logos in the global gaming and esports communities. With a fan base that spans every continent, Razer has designed and built the world's largest gamer-focused ecosystem of hardware, software and services.
Razer's award-winning hardware includes high-performance gaming peripherals and Blade gaming laptops.
With over 200 million users, Razer's software platform includes Razer Synapse (an Internet of Things platform), Razer Chroma RGB (a proprietary RGB lighting technology system supporting thousands of devices and hundreds of games/apps), and Razer Cortex (a game optimizer and launcher).
Razer also offers payment services for gamers, youth, millennials and Gen Z. Razer Gold is one of the world's largest game payment services, and Razer Fintech provides fintech services in emerging markets.
Founded in 2005, Razer is dual headquartered in Irvine, California and Singapore, with regional headquarters in Hamburg and Shanghai and 19 offices worldwide.
PRESS CONTACTS
Americas
Will Powers
[email protected]
EMEA
Maren Epping
[email protected]
China
Evita Zhang
[email protected]
Asia Pacific    
Mark Juan
[email protected]
Global
Clinton Jeff
[email protected]
Razer — For Gamers. By Gamers.™